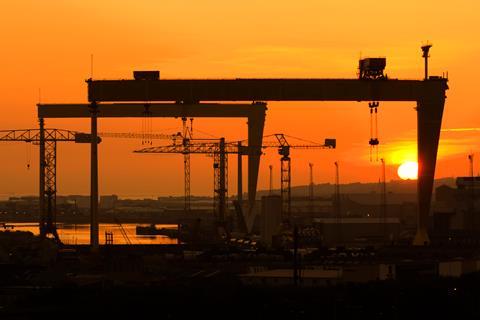 Government plans to ease checks on supermarkets moving goods from Great Britain to Northern Ireland from next year have been branded "unacceptable and potentially anti-competitive" by industry figures, who warn it could lead to reduced choice and higher prices for Northern Irish shoppers.
The government has been in discussions with the EU-UK Joint Committee about a 'trusted trader scheme' for Northern Ireland since the start of summer, as it looks to ease the customs burden that will soon face UK supermarkets bringing goods into the region.
Nicknamed "the supermarket solution" by some government officials, the scheme would waive or streamline the customs checks and safety and security declarations that supermarkets claim could make it unviable for them to continue operating in the region.
But the plans have caused ire among suppliers, wholesalers and convenience stores, who are urging government to extend the scheme to all food and drink trade crossing into Northern Ireland.
In a draft letter due to be sent to Defra secretary George Eustice and Michael Gove this week, 19 senior industry representatives warned that restricting the scheme's access would leave supermarkets as the only viable option for businesses wanting to supply the region.
"This will concentrate even greater powers in the hands of these dominant retailers," said the letter, seen by The Grocer. "This erosion of competition will result in reduced choice and higher prices facing consumers in Northern Ireland."
A recent FDF survey revealed that 80% of UK food and drink businesses currently ship their products into Northern Ireland themselves, all of which would currently fall outside of the government's scheme.
"[The government] have always said they would look to roll this out further in phases but the worry is that once they've got past the four or five large supermarkets then the momentum will stop," said Luke Hindlaugh, senior EU and international trade executive at the FDF.
The letter to government spelt out the damage this could cause to wholesalers, foodservice, and convenience stores, as well as the "manufacturers in Northern Ireland that depend on the seamless supply of ingredients from Great Britain".
"What you can't have is a situation where the government gives the supermarkets privileged access," said one senior industry source. "That would constitute a restraint of trade" and "face a referral to the CMA from one or other of the disadvantaged parties".
Aodhan Connolly, director at the Northern Ireland Retail Consortium, said a trusted trade scheme would be a "must have" if supermarkets are to keep shelves stocked and prices low from next year. However, he recognised the solution could not be solely about supermarkets.
"We realise we are very dependent on our supply chain. There's an eclectic retail mix in Northern Ireland, all of whom will need to be engaged with this process."
Michel Barnier, the EU's chief negotiator, said in June that simplified customs procedures could apply for some large operators moving goods from Great Britain into Northern Ireland, "supermarkets being one of them".
But the plans are thought to have taken a backwards step in recent weeks after the launch of the UK's internal market bill, which is designed to override key aspects of the Northern Ireland protocol agreed with Brussels last year.
"A trusted trade scheme relies on trust and the UK bill was seen to remove some of that trust," said Connolly. "But we do know there are technical discussions ongoing."
A government spokesman said it recognised "the unique position of authorised traders, such as supermarkets, with stable supply chains, and comprehensive oversight of warehousing and distribution operations, moving pre-packaged products for retail sale solely in Northern Ireland. We are continuing to pursue specific solutions for this trade."