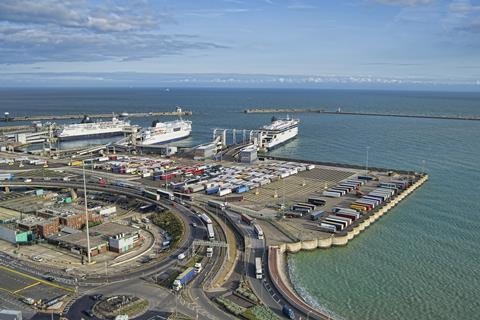 It will be "impossible" for supermarkets to stockpile for the end of the Brexit transition period on 1 January, retail leaders have warned, after a new report claimed consumers were facing fresh food shortages and price rises.
A BRC report, launched today and called A Fair Deal for Consumers, said unless ministers found ways to reduce the impact, food and drink companies would face "disastrous" new tariffs, gridlock at the ports and a mountain of new paperwork.
Under last year's no-deal emergency plans, lorries would have been waved through the border, but Michael Gove announced last week that there would be border checks from 1 January.
Today's BRC report warned that regardless of the outcome of the negotiations with EU leaders, due to start in three weeks, retailers and suppliers faced delays and extra costs through new paperwork, such as certificates of origin, transit barcodes and customs valuation documents.
However, the BRC said it was still possible for the government to take measures which would reduce the impact on the industry. They include coming to new agreements with Europe on export health certificates, ramping up the infrastructure at ports such as Dover and agreements to impose zero tariffs for food products.
BRC policy adviser William Bain said the consortium accepted that "the days of frictionless trade have gone", adding: "What we are trying to say is it's not inevitable that we have the full temperature range of checks at the border – that there are things that either through unilateral facilitation or negotiation the government can do to reduce the heat."
Meanwhile, the BRC warned that the January timing for the imposition of new trade barriers came at an even worse time than the previous "Halloween" no-deal Brexit it had feared in 2019.
"When there was a risk of a no-deal it was clear from day one the government was going to throw open its borders. That was the one thing that would at least eliminate the immediate impact," said BRC's director of food and sustainability Andrew Opie.
"But the flipside is we've got 10 months to really to get a good pragmatic approach to this.
"What we are saying here is a hard stop has been signalled, let's make the most of the next few months."
Asked if retailers and suppliers would seek to stockpile for the fourth time, Opie said the capacity would not exist.
"That time of the year is a nightmare for food retailers. It will be the worst. I'm not even sure you'd be able to stockpile, because they stockpile in the run-up to Christmas in the first place.
"Every warehouse will be full in December anyway. I'm not sure it will even be an option."
Last week The Grocer revealed the majority of suppliers spent more than £100,000 stockpiling for Brexit in 2019, with the cost for retailers running into millions.