The newest front in Britain's culture war is seeping into food and drink. So should brands adopt the union flag on packaging and marketing – or steer clear?
"Very unpleasant and quite intimidating," is how one Twitter user described the union flag-emblazoned Mornflake porridge oats pack at their local Morrisons this month. Another wondered whether the flag-wrapped own-brand eggs and butter at the supermarket had "always been this…patriotic?"
Others mocked the complainants for being too easily "triggered". And so began the latest skirmish in the so-called culture war over the use – be it too much or not enough – of the union flag by brands, retailers, the government, citizens and institutions.
"Brexit may be behind us now, but make no mistake: a divided country remains," says Callum Saunders, head of planning at Zeal Creative, which works with Nestlé, Pringles and McCain. "Brand Britain is undergoing a radical shake-up."
In this context, British brands must tread carefully around wearing their colours. "It is so sad that what was once a source of pride now has the ability to divide people," says Vanella Jackson, CEO of market research agency Hall & Partners.
So in this divisive climate, how big a deal should brands make of their Britishness? Will overt home-grown credentials become a more powerful sell in the post-Brexit landscape? Or should the union jack only be used sparingly or not at all?
"Brexit may be behind us now, but make no mistake: a divided country remains"
For the power of British cues, look no further than BuyBritain.com, which launched in November selling only UK-made products. Founder and CEO Michael Oszmann says a "resurgence in interest" in local sourcing has resulted in double-digit sales growth every month. That interest is reflected in the biggest Buy British Facebook group – of which there are several – with a total of 54,000 followers.
When it comes to food and drink, an appetite for Britishness is even more pronounced. A Crosse & Blackwell survey this year revealed more than half of Brits are looking to buy more domestic food and produce this year, following the UK's departure from the EU. Nearly two thirds considered it a 'logical choice'.
For John Pearce, CEO of manufacturers' mark Made in Britain, this denotes a "new climate of public support" for buying local. It commissioned a survey last year that found 90% of Brits believed it was important to buy British-made products, with more than a quarter happy to pay a premium for them – especially in the case of food and drink.
Brands are responding in kind. Almost 80% of the 1,200 manufacturers questioned by Made in Britain said they are promoting the fact their products are domestically produced more actively.
'A damaged brand'
But appearing overly patriotic has its pitfalls. As Jackson puts it, "the flag remains a damaged brand, in search of an urgent refresh" amid the divided political climate. "Brand Britain is languishing in the wreckage of the post-Brexit storm. There is no clear vision of the future," she says.
Indeed, for some people, the union flag has become synonymous with darker elements of society. "There has been a definite feeling that the union flag is becoming associated with right-wing nationalist elements in the UK," says Steven Frampton, co-founder of game meat brand Wild & Game.
That has prompted a reappraisal at Frampton's brand, which until now has been using the union flag as a "major selling point" on its packaging. "We will be modifying our use as more of a background role in future," he says. "We will be reviewing the use of the flag again as the situation develops."
Fara Darvill, growth director of brand consultancy Design by Structure, says for some individuals and communities "British has become a dirty word".
"Brexit surfaced an ugly side of what Britishness means," Darvill says. "The union jack flag has been hijacked by the far-right and extremists and the pandemic has put up invisible borders."
Extreme caution, then, is necessary for brands wanting to shout about their origins. Take BrewDog. Despite its strong Scottish-made credentials – all of BrewDog Distilling Co's products are made "from grain to glass" in Aberdeen – the brand takes care around its boasts, says Steven Kersley, director of distilling operations at its spirits arm.
"A brand's heritage is hugely important and can feed into every aspect of the business," he says. "However, the balance between having a strong backstory and being nationalist is very fine. Although we are proudly made in Scotland, we do not use iconography that could alienate potential customers. Consumers are intelligent, they see through brands' attempts to push their 'Britishness' too hard."
And when the flag is flown by brands, they must have robust provenance to back it up, says Brinsley Dresden, advertising and marketing law partner at Lewis Silkin.
"Brexit surfaced an ugly side of what Britishness means"
"Consumers are going to be unhappy if they feel they are being misled, or that brands are stretching their credentials," Dresden says. "It's all about authenticity. It's for each brand to decide, but the more they push their British origins, the more they must expect to be asked to substantiate those claims and credentials."
Sourcing claims are coming under scrutiny for a good reason. Because, for all the controversy around right-wing connotations, consumers are often buying British for far more tangible, important motives than fervent patriotism.
Two thirds of Brits said they had become more likely to buy British products since the start of the pandemic because they see a need to support local businesses and boost the economy, Made in Britain research found.
That point is hammered home by Matthew Hall of Butlers Farmhouse Cheeses, which has a union flag on its products.
"The decision to buy British isn't because people hate the EU. It is much more about wanting to buy local because it's helped me in the last year and I want to support the local economy getting back on its feet. The flag does that in a way nothing else can. It would be a shame if it got to the point that you couldn't put that on a label without causing offence," Hall says.
That's why Camilla Yates, strategy director at Elvis creative agency, says a hyperlocal claim can actually work better than British cues in some cases. "The more specific brands are able to get in their provenance story, the more authentic it will feel, and the more connection consumers will have to it," she says.
The environment is another factor pushing shoppers towards homegrown produce. Made in Britain found 71% of consumers believed buying British could help combat climate change – an uplift of 8% on 2019. Furthermore, 58% agreed they were more aware of the environmental issues around sourcing and their carbon footprint.
Against this backdrop, a local product with robust environmental credentials is a powerful sell. "If a British-made brand can demonstrate that they have a sustainable supply process that creates value for the ecology and sustainability, they would be appealing to all consumers," says Ned Hodge, senior strategist at Strat House, which has worked with the likes of Kraft Heinz, Unilever and Nestlé.
"Ultimately, it is less about the importance of a brand's origins and more about how the brand is presented in order to show it is solving problems in a planetary sense."
Then there are the more practical reasons for buying British. These have proven important for Kendamil, the only babymilk brand that uses locally sourced ingredients and is made in the UK.
"Brexit has been a huge boost for our brand," says CEO Ross McMahon. "As a parent feeding a young child, trust and security of continual supply is key. Parents are more aware than ever that our rivals' products are made and imported from overseas." As a result, its sales have grown over 120% in the past 10 months.
Even before the upheaval of Brexit, Kendamil saw its British credentials as a selling point. "Made in Britain is not a political statement, but rather a sign of quality," McMahon stresses.
Brits overseas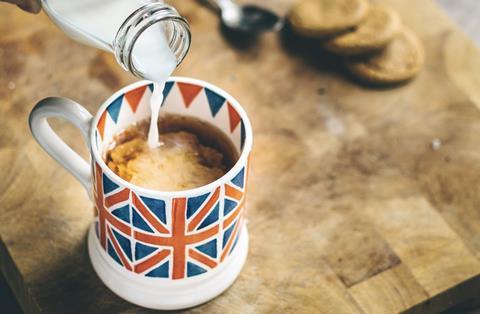 Regardless of the mixed feelings at home, there is a huge opportunity for British fmcg brands to tout their provenance in overseas markets. Economic modelling this year by Barclays found the premium commanded by British-made goods could be worth £3.5bn per annum to British companies, according to a survey across 10 markets.
"UK businesses should exploit demand for British-made goods in countries where perceptions of products made in Britain are more positive," says Barclays Corporate Banking's James Binns.
Research by the bank in January found that over a third (36%) of overseas shoppers were buying more British-made goods than five years ago. A similar proportion had knowingly paid a premium for them – to the tune of 5% for food and drink. The biggest Anglophiles? Consumers in China, India and the UAE, where more than half of shoppers had happily paid more for British-made goods.
While a UK flag on packaging made little difference to the majority of overseas shoppers, 39% said it would make them more inclined to buy a product.
Quality cues
The quality argument emerged as a crucial one in the Made in Britain survey. When asked what drove their purchase decisions, only 2% claimed country of origin was their main consideration. Yet 40% named quality as their main priority – well above cost, cited by 29%. So if Britishness can be equated with quality, there could be a sizeable opportunity.
Zeal's Saunders says this is more likely to resonate with consumers. "Putting good quality grocery products into their baskets for a good price is likely to be higher up the agenda and reflected in retail realities, than the luxury of debating a brand's British provenance." Indeed, despite the apparent patriotism shown in the Crosse & Blackwell poll, more than half of respondents admitted to not checking the provenance of a product at all before making a purchase.
Wild & Game's Frampton says the power of this quality argument will be dictated by the economic climate, though. "If the economy starts to have issues it may be the lowest prices that win out, whatever the origin of the products."
So essentially, slapping a British flag on packs is unlikely to lead to an instant sales rise. But if brands think carefully about what they want to communicate with those cues, they can reap the rewards.
"Any British brand will need to be well aware of the conversations and modern connotations before deciding to get involved," says Hodge. "But those who do want to can unpack powerful, unexplored attributes that might give new meaning to what it means to be British today." And exactly what that does mean is a whole other debate.
The challengers being bold about Britishness
Smith England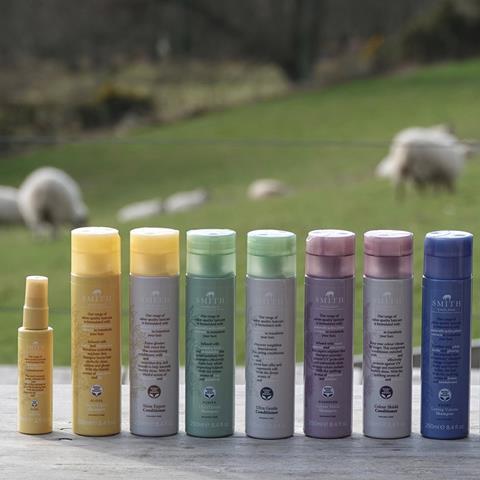 Phil Smith launched haircare brand Phil Smith Be Gorgeous in 2006 – a time when there was "an overkill of British branded beauty ranges". But the rise in popularity of British brands overseas in recent years saw him launch Smith England – "inspired by the British countryside" – in 2017. "There are so many British beauty brands achieving global success," he says. Now is the moment for UK brands to capitalise, he adds: "Make hay while the sun shines."
Hames Chocolate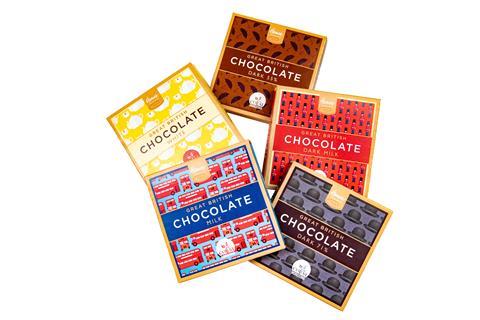 The chocolatier launched its Great British Chocolate range last year, in response to "consumers actively seeking out foods that are made and packaged sustainably, have lower food miles and wanting to support homegrown producers" it says. The brand sidestepped deliberations over flags on packaging with a different approach. "We chose to highlight the provenance by displaying cultural icons, such as umbrellas, teapots, bowler hats and buses," it says.
Two Drifters Rum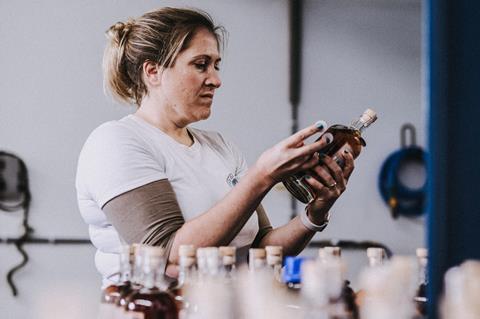 Rum is hardly synonymous with the UK, but the Two Drifters brand certainly is: made here with local ingredients, British glass bottles, British-made labels "and therefore British rum" says co-founder Gemma Wakeham. A consumer poll found its provenance was the top reason for choosing the brand. "Caribbean rum is world-known and does not need improving. We wanted to show rum can be made in the UK," she says. "It's a totally different flavour with a unique story."
Yorkshire Hand Made Pies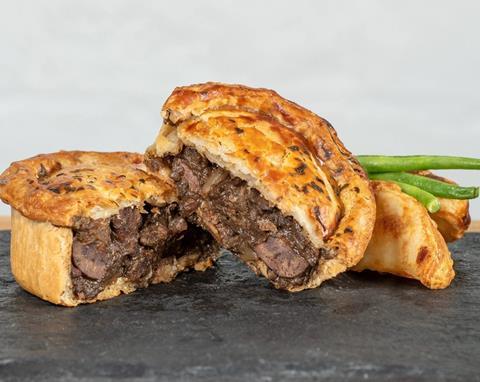 Many brands get more granular with their provenance claims than 'made in the UK'. During lockdown, James Sturdy of wholesaler Sturdy Foods launched a pie brand that played up everything Yorkshire, using beers from local breweries and meat from local farms. "I believe Yorkshire has a brand all of its own and it is seen as one people can trust," Sturdy says. "We expected the pies to be popular locally, but we are delivering to every corner of the country daily."
Belvoir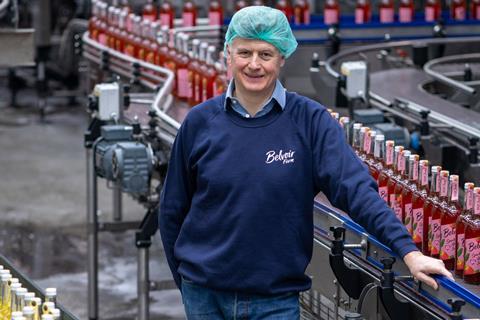 "Our bottles are literally a quintessential slice of the English countryside, crafted with nature," says Pev Manners, MD of Belvoir Fruit Farms. "We don't need to put a flag on it." While demand from retailers increased early in the pandemic due to "location and logistics", now it's consumer demand driving sales as they become more "tuned in" to local producers. The company will tell its story as part of ITV4's Made in Britain series next month.