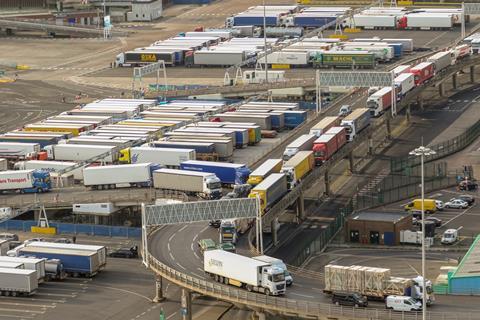 New environment secretary Theresa Villiers has admitted the UK faces shortages of fresh food if there are delays at Dover and Calais in the event of a no-deal Brexit.

The new secretary of state also hinted that ministers were likely to cave in to calls from food industry leaders to relax competition law for retailers and suppliers, in a bid to help companies work together to mitigate the threat of no-deal chaos.

Villiers' admission on the likely impact on supermarket availability comes just over a week after her predecessor Michael Gove denied the UK was facing food shortages because of plans to leave the EU on 31 October, with or without a deal.

Facing questions from the Environment, Food and Rural Affairs Committee, hours before parliament was controversially prorogued by until the middle of next month, Villiers said: "If there are significant delays on the Dover-Calais route then there may be a more limited choice in relation to some fresh foods.

"Some fresh foods will be harder to get hold of than they currently are."

Last week The Grocer revealed the government was planning to introduce up to 100 pop-up checkpoints across the UK in a bid to prevent delays at Dover. The aim would be to reduce the number of drivers arriving without correct paperwork. Experts warned that even in the best-case scenario the ports were expected to operate at only 80% in the event of a no-deal.

Villiers said she believed the food industry was in a "good position" to cope, despite warnings from the FDF and the BRC that the country is facing major food shortages.

She also said she believed the government would be willing to bend competition rules to help prevent food shortages, following a request by the FDF last month to allow companies to co-operate on Brexit planning.

Villiers said that while the final decision was down to the department of Business, Energy and Industrial Strategy, she believed rules would be relaxed to allow companies to work together, for example by prioritising deliveries where there were likely shortages.

"If it's appropriate to apply the exception to competition law in an emergency then I'm sure they will do it," she said.

"Competition law provides that in difficult situations it's possible to make exemptions to enable more contact between businesses than would normally be allowed. BEIS has had the application from the food sector and I'm sure they will be considering it carefully".