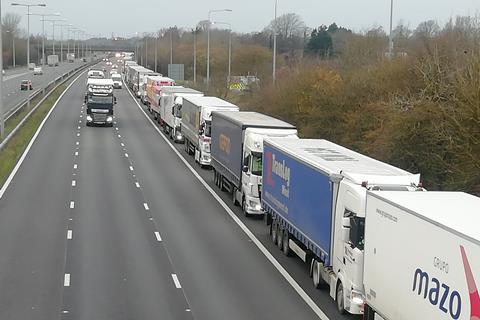 European hauliers have started to refuse to enter the UK in order to avoid the costly road congestion at cross-Channel ports.
Queues of lorries stretched for more than five miles across Kent this week with some drivers reporting delays of more than six hours. Similar delays were reported in northern France.
The congestion is caused by a throng of pressures including pre-Brexit stockpiling, a reduction in freight services due to the pandemic, and a rise in diverted traffic from delays at container ports such as Felixstowe.
At Stop 24 service station near Folkestone on Wednesday, The Grocer found drivers unwilling to return until the congestion had eased. "It's not worth it," said one Polish haulier. "Why come just to be stuck here?"
The delays have placed added pressure on British businesses currently stockpiling with more than one in four food companies still planning to build stocks ahead of the 1 January deadline, a November survey by the FDF revealed.
"Nobody wants to come. Nobody," said Geb Boito, director at Bucci Freight Services. "It's a nightmare at the moment."
The concern is particularly pressing for importers of perishable goods such as fruit and vegetables and has left many with a simple choice: pay more for transport or risk not having goods delivered at all.
"No sensible haulier is honouring previous transport agreements through this period," said Jack Fleming, founder of Chill-Chain, a cold chain logistics platform. "They would either say they're not doing it, or they will do it but on these different terms based on how long it will take."
Transport prices have consequently soared, with some hauliers demanding fees of up to €7,000 to bring goods from Northern Italy to London. Businesses would usually expect to pay around €2,000 for the same trip, but at least one major fmcg multinational is understood to be paying the new charge.
European hauliers are often paid by the kilometre, "so if they're not rolling, they're not making money", explained Heather Wallace, international group manager at the Road Haulage Association. "Anywhere they might end up sitting in lots or traffic will be avoided if they can."
Eddie Fleming, director at JEM Fruits, said a few Spanish hauliers had warned they were cutting their UK deliveries to avoid the risk of other jobs becoming affected. "If a vehicle is delayed for a day or two then it misses the collection of something else. And then another lorry has to be put in place to do that, and so on. It's a vicious circle."
He has also witnessed prices rise "exponentially" for bringing fresh fruit across from Europe. "We're getting quoted prices for normal transport that have gone up 30-40%."
While some believe congestion should ease in January with businesses in both Great Britain and Europe planning to opt out of shipping for at least the first few weeks of the year, prices are still expected to mount further with additional complexity and paperwork set to come in.
Back at Stop 24 near Folkestone, some drivers are somewhat gloomy about the possibility. "It's going to be even worse [in January]," said Jason, a British driver waiting for Swiss customs clearance. "But what can we do? It's our own government."