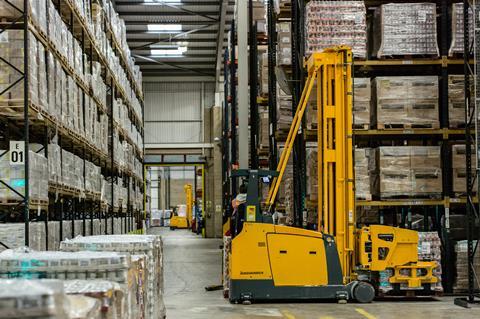 Businesses looking to stockpile food and drink ahead of January's Brexit deadline are struggling to find available storage space with warehouses across the country already at capacity.
Many facilities have rapidly filled up as companies prepare for a 'perfect storm' of supply chain pressures this winter: Christmas, a coronavirus second wave, and the end of the Brexit transition period.
Food businesses stockpiled ahead of no-deal Brexit deadlines last year in order to manage the worst of the short-term disruptions, but some have warned it will be much trickier this time around.
"There is a real shortage of warehouse space out there," said Alex Knowles, MD at Knowles Transport, a warehousing and distribution provider for food and drink manufacturers. The company is operating at 90% capacity across its six sites, with some warehouses now completely full.
"All of our customers have come to us and said, 'we want to hold more stock than we usually do'", said Knowles. "In some cases we've had to go out and sublet more space for a specific customer to manage additional stockholding requirements."
Many storage facilities are still holding high street goods that were not sold during lockdown, while the recent surge in online has put new demand pressures upon space.
"Warehouse space is definitely a concern," said Dave Howorth, executive director at Scala. "Amazon is grabbing warehouses like there's no tomorrow. The NHS is grabbing space to put PPE in. And then you've got demand for space going up because of stock building for Christmas and Brexit."
For many businesses, stockpiling is the most obvious option to manage short-term supply chain disruption, but Howorth suggested the government's lack of clarity on the future border process was making some companies reluctant to commit.
Last week, cabinet minister Michael Gove warned of queues 7,000-trucks-long as part of the government's "reasonable worst-case scenario" planning, just weeks after transport minister Grant Shapps said he was "absolutely confident" supply chains would keep moving regardless of the outcome of negotiations with the EU.
"When you've got a government that says everything is going to be fine and then says no it's not, it's going to be 7,000 trucks in Kent, to what level do you stock build when your own government is giving you mixed messages as to the impact?" said Howorth.
Over two thirds of food manufacturers intend to stockpile ingredients and raw materials ahead of the January deadline, according to a recent survey by the FDF, though about a third of respondents conceded they were in a worse position to do so than previous deadlines.
Dominic Goudie, head of international trade at the FDF, warned that production for both Christmas and Brexit stockpiling may come under threat unless Covid tests were made more readily available for food and drink workers.
"We're seeing workers being forced to self-isolate because they aren't able to secure tests to see if they're infected or not," he said. "That is starting to have the real impacts on production which we didn't see earlier this year at any point.
"We are worried that unless this is sorted soon and unless they get the testing regime up to scratch with prioritisation given to food and drink as an industry, then this problem could further deteriorate in the coming months and really inhibit both the Christmas production and the ability to stockpile."
A senior industry source said: "Instead of going into this period with full inventories and the capacity to scale up further, as the industry was [previously] able to do, you're constrained," warning that if it occurred alongside a breakdown in trade talks between the UK and the EU, the political ramifications for the government could be immediate. "If you're in no-deal Brexit at that point there will be total chaos and the government will be forced to resign."