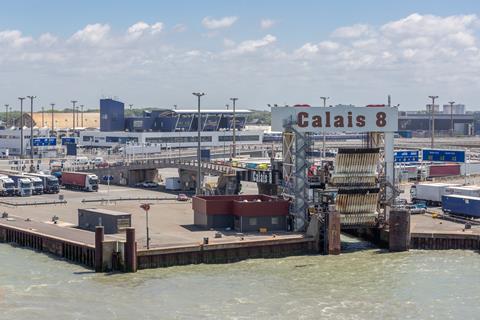 France has temporarily reduced its border controls this week to help British exporters arriving at EU borders without the necessary paperwork.
The French Embassy in London told trade groups its ports were seeing a high volume of compliance issues with most lorries containing food and drink arriving from the UK without the required documentation.
France has opted to implement a light-touch approach on checks during the initial days of the post-Brexit trading regime, though this is expected to end later in the week. It has urged food and drink businesses to ensure they meet the new requirements, otherwise lorries could soon start to be denied entry and turned back.
Defra told a food industry meeting on Tuesday that seven lorries were turned back from French ports on 1 January, 33 lorries on 2 January, and 48 lorries on 3 January, though this was attributed to drivers not having evidence of a negative Covid test, rather than an issue with paperwork.
Traffic flows at Dover have been down by 85% this week on the typical daily average, according to the port, with many businesses choosing to refrain from sending goods for the initial days of the year.
But as freight levels increase and France begins enforcing full border checks, the number of lorries returning to British shores is expected to surge. "[The government] knows full well it's a ticking time bomb," said one attendee at Tuesday's meeting.
Shane Brennan, CEO of the Cold Chain Federation, said most of the paperwork was the responsibility of the exporter rather than the haulier, many of whom were unaware of the new requirements now in place.
"There is clearly going to be a bumpy period where companies will have to learn the hard way about the level of paperwork requirements that they're going to need, and then either be turned away by a logistics company on this side, or something will slip through the net and there's loads turning up at the border without the stuff they need," said Brennan.
Inspections such as for sanitary and phytosanitary (SPS) controls are often more onerous for businesses than other paperwork, with 30% of meat shipments, for example, now having to undergo checks upon entry to the EU.
The percentage is calculated on an annual basis for imports into the EU from all other countries, meaning France's relaxation for the UK will likely come at the expense of others. "If the French or the Belgians or any other EU member state continues to do this throughout the year, what that means is they will effectively have to have to start enforcing it more on other non-EU countries," said one industry source. "Every day that a lax approach is taken to the UK, it has to go up on other countries."
The French Embassy did not respond to requests for comment.