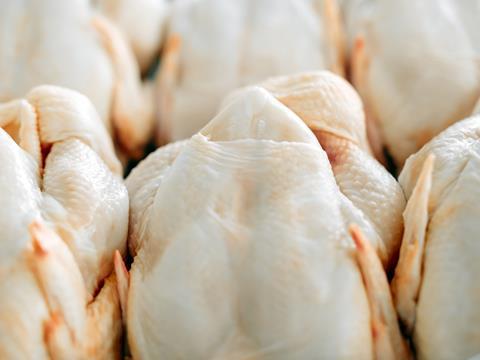 The Department for International Trade has played down the prospect of importing chlorine-washed chickens from the US as part of a transatlantic trade deal, despite reports emerging that secretary of state Liam Fox was "open" to the prospect.

The Telegraph reported yesterday that the cabinet was split over the controversial production method.

Fox and foreign secretary Boris Johnson are apparently in favour of including agriculture in a free trade deal, while former and current environment secretaries Andrea Leadsom and Michael Gove are reportedly against for fear of downgrading British food standards, and the negative effect cheap imports could have on UK farmers.
The report quoted a source close to Fox, which said the minister believed Americans had been "eating it perfectly safely for years", and that any "meaningful" trade deal with the US would have to include agriculture - potentially giving giant American farms access to the UK market.
Fox is currently in Washington DC and was due to start talks on a post-Brexit trade deal with the US today.
Allowing the export of American meat to the UK could be a deal-breaker in any FTA negotiation, with the American Farm Bureau Federation known to be pushing for meat produced using methods currently banned in the EU (such as chlorine washing of chicken and the use of growth promoters in beef) as part of any negotiation.
British Poultry Council CEO Richard Griffiths rejected the notion of importing chlorine-washed chickens as part of a makeweight in trade negotiations with the US, and warned any compromise on standards "will not be tolerated".
He added: "A secure post-Brexit deal must be about Britain's future food security and safety. This is a matter of our reputation on the global stage."
Speaking at the NFU conference in February, Andrea Leadsom told The Grocer that high animal welfare standards "will be a core part of any international trade arrangements", while her successor Michael Gove has also stated British food standards would not be loosened after Brexit.

A source at DIT said specific agricultural issues were "a long way down the road and are not being discussed at this stage".
Fox responded to the reports in a speech at the American Enterprise Institute today by taking another swipe at some elements of the UK media for its perceived biased against Brexit.
He said: "In a debate which should be about how we make our contribution to global liberalisation, and the increased prosperity of the UK, US and our trading partners… the British media is obsessed with chlorine-washed chickens - a detail of the very end stage of one sector of a potential free-trade agreement. I'll say no more than that."