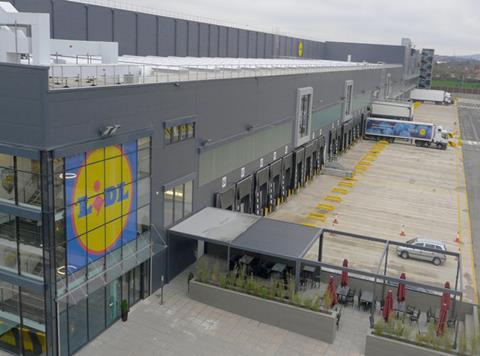 Lidl has created a new customs department at its south west London head office responsible for ensuring imported products still reach UK shelves after Brexit.

The discounter is recruiting customs assistants, specialists and managers to deal with importing challenges arising from Britain's exit of the European Union on 29 March.

'With Brexit fast approaching, our importing process may become that Lidl bit more challenging,' a job ad on the supermarket's website said this week. 'That's where you come in.

'As part of our brand-new customs team, you'll play your part in maintaining our efficient and streamlined processes, to ensure our imported products continue to reach the shelves of our UK stores.'

A Lidl UK post on LinkedIn said: 'We now have a brand new customs department in our head office, south west London.
'This means new opportunities for customs assistants, specialists and managers to join the team responsible for one of our largest projects for 2019.'

One of the roles is customs operations manager, in charge of a 'fast-growing team of administrators'. The candidate will 'need to take a pragmatic approach to solving problems to ensure our imported products get on to the shelf in Lidl stores all around the country'.

Another is customs manager - compliance & audit, heading up a team of eight and 'protecting Lidl from compliance risk'.

The supermarket has previously stated that it sources two-thirds of its products from the UK. It did not provide a comment on the new customs department.

Lidl has been tight-lipped over Brexit preparations but in a recent comment said it had a 'dedicated task force in place which is engaging closely with the BRC and government departments to ensure that we are kept informed of the latest developments and prepared for various scenarios'.

In August last year Aldi created a new senior role of group director - brand and category, with responsibilities to include Brexit preparations. Then-communications director Mary Dunn was to assume the new role after handing over responsibilities to her replacement Richard Thornton.