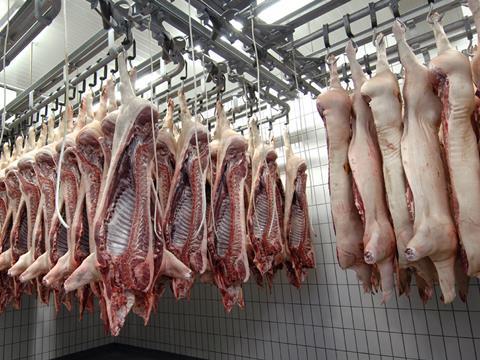 Border chaos caused by an "archaic" paper-based customs system is now threatening "a serious and sustained loss of trade with our biggest export partner", the British Meat Processors Association has warned.
Speaking after a turbulent start to the year for fresh foods importers and exporters, the BMPA dismissed the government's recent suggestion that delays in UK/EU trade were simply "teething problems". It called for its customs and certification system to be modernised and digitised.
Citing the halt by many hauliers of groupage-based exports over the past fortnight, and the delays faced by traders in the seafood sector in particular, BMPA CEO Nick Allen said the government's current paper-based system was "a relic from the last century and simply not fit for purpose".
He added: "It was never designed to cope with the kind of integrated, just-in-time supply chain we have built up over the last 40 years, and if not fixed quickly it will be the thing that starts to dismantle the European trade British companies have fought so hard to win."
And with 40% of the British meat industry's trade with the EU sent via groupage, current border challenges meant the situation was now becoming critical for the meat sector, Allen suggested.
"At best the new system is causing delays to simple, single-product loads but at worst it has meant that grouped loads are now no longer viable to send."
Alongside seafood, fresh meat was one of the most time-critical perishable products. And as a result, "every hour a lorryload of meat is delayed increases the chance of that order either being reduced in price, cancelled and returned or, in the most severe cases, thrown away and ending up in landfill", he said.
"One of our members reported on 11 January that he had six lorry loads of product [worth about £300,000] all waiting for customs clearance into the Republic of Ireland," Allen added.
"At the time, one of those loads was about to be returned to the processing company after waiting five days for clearance. Drivers have been reporting long delays as they wait for HMRC to process the customs documents."
If customs systems were not fixed quickly "it would be the thing that starts to dismantle the European trade British companies have fought so hard to win", Allen warned.
"If Continental supermarkets are unable to have products delivered the way they need them to be, this trade will simply be lost as EU customers abandon UK suppliers and source product from European processors."
After a lull, border traffic was expected to return to normal volumes from this week "but will likely get caught up in a second wave of border chaos caused by a flood of other industries ramping up exports at the same time", he added.
Allen's comments follow a scathing analysis of the current border chaos by the National Pig Association last week. NPA CEO Zoe Davies slammed the "bureaucracy overload" faced by processors that had brought supply chains grinding to a halt.
It comes as fish exporters descended on Whitehall yesterday to protest over the post-Brexit border issues wreaking havoc across the sector.