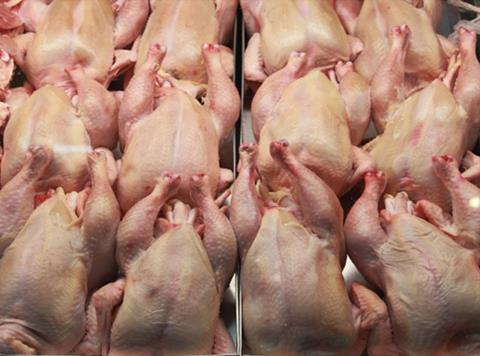 No-deal Brexit trade barriers with the EU could cost the UK poultry sector up to £200m in lost export revenue in just six months, the British Poultry Council has warned.
Despite the UK being almost 100% self-sufficient in fresh supermarket-sold chicken, UK processors also exported some 370,000 tonnes of poultry meat to the EU in 2017 [HMRC], representing about 75% of the sector's total export trade.
The vast majority of these exports were made up of lower-value dark meat such as legs, thighs and wings, as well as fifth-quarter portions such as feet, heads and offal.
But if the UK left the EU with no exit deal or was unable to secure third country status, the market – which was key to maintaining the sector's carcase balance – would be cut off, warned BPC CEO Richard Griffiths.
This would mean UK processors would need to add more cost into the white meat it sold in the UK, leading to potential price hikes of as much as 25%. BPC calculations suggested a six-month block on trade with the EU could cost the sector in the region of £200m, Griffiths added.
Concerns over carcase balance meant processors were also facing a dilemma about how many birds they put into production now, Griffiths suggested, as too much production without access to EU markets could mean the UK market would be flooded with meat it could not sell.
Trade deal
Meanwhile, any future trade deal with countries such as the US could also have a negative impact on domestic production, if cheaper imports produced to lower standards displaced UK-grown chicken.
"A no-deal Brexit would be incredibly damaging for our sector, for our ability to trade, for our workforce and for British consumers of poultry meat," he said, adding significant capital investment in the sector had also been "very cautious due to political uncertainty".
Disruption to supply chains from a no-deal Brexit would also be exacerbated by already difficult staff recruitment conditions, he added. Some 60% of workers in the sector were EU nationals, while the cost of hiring staff had risen by 25% over the past year as processors struggled to retain non-UK workers.
And while the sector was working on a range of contingencies, these factors, along with growing concerns over attracting enough drivers to the sector, were all contributing to mounting fears a no-deal could be "catastrophic", and would dwarf the difficulties seen during last year's CO2 crisis.
"If the government is serious about making Brexit work, it must avoid running the risk of creating a two-tier food system where only the affluent can afford to eat British poultry that meets British standards from farm to fork," Griffiths said. "It's crucial the UK finds a workable trade deal with the EU and gives our sector access to non-UK labour. We need certainty in order to grow and thrive."