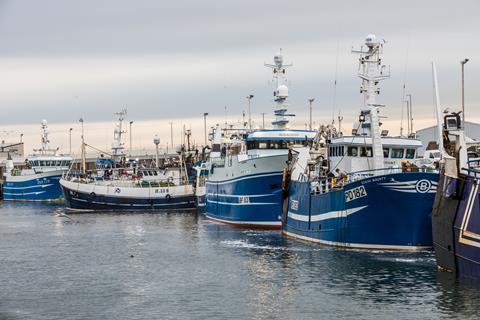 Scottish seafood firms have urged the UK and EU to grant a six-month grace period for fish exports as the sector grapples with major systemic issues caused by Brexit border delays.
Seafood Scotland said such a move was "the only way to keep the sector afloat" as it would allow IT systems to be fixed and properly tested and give businesses time to get up to speed with new customs rules – two issues that have brought about severe delays to exports over the past week.
The body said the knock-on impact of the delays had led some vessels to land their fish directly in the EU, while average prices had fallen by 80% for some species.
Processors were losing millions due to the delays, it said, as it compared the current system to "pushing water uphill". The UK government had "days to fix [the problems] – not weeks" as the sector faced mounting losses.
In one case, a business which usually sends £1m of fresh seafood to the EU every week managed to get just £12k of product to its continental customers last week.
"[These issues were] inevitable, given such a complicated process was put together at the last minute. With some breathing space, the system can be fixed and rebooted, and companies will then be able to keep moving," said CEO Donna Fordyce.
Exports have already been temporarily halted for some businesses by logistics provider DFDS, which last week suspended its groupage export service until 18 January in a bid to clear the backlog of exports, deal with IT system issues and train up extra staff on the new customs rules.
In recent days, seven large, UK-flagged vessels landed their catches in Danish ports to avoid the Brexit chaos, with the number of boats expected to rise into double figures by early next week, according to the Scottish Fishermen's Federation.
"It is not unusual for a small number of Scottish vessels to land fish in Denmark early in January, but what we are seeing now is far from usual," said SFF CEO, Elspeth Macdonald.
"With prices collapsing at home due to the mountain of bureaucracy, home-based processors cannot get their products to market, [so] our fleet has to do everything that it can due to remain financially viable. The industry was promised more fish to catch and ready access to markets. Neither of these has been delivered," she added.
There was some positive news for the seafood industry on Wednesday (13 January), however, after Boris Johnson promised financial support for seafood businesses hit by the disruption.
Speaking in front of the House of Commons Liaison Committee, the PM told MPs he understood the frustrations of the seafood industry, adding, "As far as there are delays caused by a variety of problems, we will compensate those businesses".
Scottish Seafood Association CEO Jimmy Buchan said he hoped it could pave the way for exports to "resume as normal".