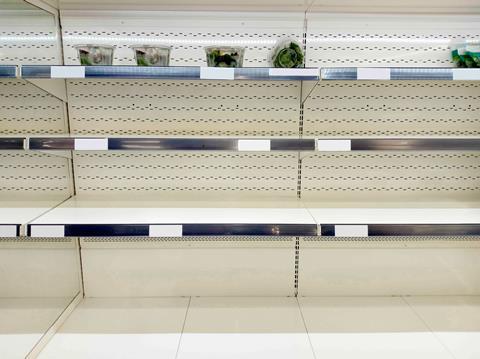 Supermarket bosses have demanded "urgent intervention" to prevent "significant disruption to food supplies" in Northern Ireland due to the post-Brexit border arrangements.
Many retailers in the region have been unable to fill empty shelves caused by the new border regime, with M&S dropping several hundred product lines last week and Sainsbury's selling Spar products sourced from Ireland.
In a letter to Cabinet Office secretary Michael Gove, supermarket CEOs – including those of Tesco UK, Sainsbury's, Asda and M&S – warned that shortages would worsen when the grace period that currently exempts them from some of the worst checks ends on 31 March.
The group said that the proposals for new border arrangements were "unworkable" in the timescale provided. They urged government to open discussions with the EU to explain the difficulties in changes to the border in April and devise a new plan to ensure goods could flow freely across the new border.
A government spokesman said a new dedicated team had already been set up to work with supermarkets, the food industry and the Northern Ireland Executive to try and streamline the process.
In the letter, supermarkets offered their own teams to help develop solutions to the challenges and create a system integrating customs and food controls. "[It is] essential we find a long-term solution, agreed with the EU," they wrote. "We cannot stress enough that we need time to find and implement that solution."
In a another letter to Michael Gove and NI secretary Brandon Lewis this week, shadow ministers similarly asked for confirmation that the government "will work through the Joint Committee to avoid the cliff edges that will be forthcoming in April and July on the temporary derogations".
A government spokesman said: "The grace period for supermarkets and their suppliers is working well. Goods continue to flow effectively between Great Britain and Northern Ireland and we are working intensively with industry as new requirements come in."