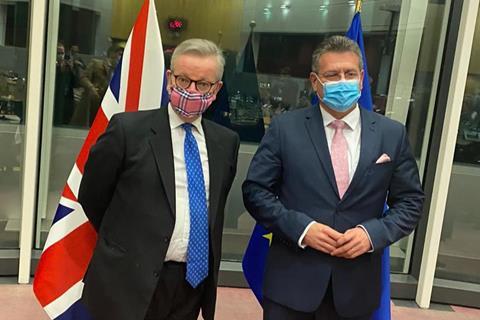 Cabinet minister Michael Gove has written to the EU demanding an extension to Northern Ireland grace periods, saying the UK will otherwise "consider using all instruments at its disposal".
Gove said the arrangements in place for supermarkets and their suppliers must be extended until at least January 2023, to all "relevant local businesses".
Supermarkets have been given three months to prepare for export health certificates when moving animal products from GB to NI, while a six-month grace period applies specifically for chilled meats.
Gove added a "permanent solution should be put in place for those chilled meat products moving GB-NI that are otherwise prohibited".
In a letter to European Commission VP Maroš Šefčovič, Gove said the UK government "seeks urgent resolution of these problems". He added that "if it is not possible to agree a way forward in the way we propose, then the UK will consider using all instruments at its disposal".
The pair are scheduled to hold a meeting on Wednesday alongside first minister Arlene Foster and deputy first minister Michelle O'Neill to discuss the issue.
The move reflects a change in position from the government. On 20 January, NI secretary Brandon Lewis told the Northern Ireland Affairs Committee "we're not at the moment in a position where we want to be looking at extending the grace periods".
Lewis said the government wanted to find "fixed permanent solutions" to issues related to the Northern Ireland Protocol "well before" the end of the grace periods.
But speaking in the House of Commons on Tuesday, Gove said there were "serious problems" with the protocol that needed to be addressed. "We do need to make sure grace periods are extended so that supermarkets can continue to provide consumers with goods they need."
Checks on animal-based foods were suspended at Belfast and Larne ports on Tuesday after Mid and East Antrim Borough Council reported an "upsurge in sinister and menacing behaviour in recent weeks".
Graffiti appeared in the area last month referencing tensions over the Northern Ireland Protocol and describing port staff as "targets". It is also understood that staff reported individuals taking down their number plate details.
The council said the situation had caused "extreme distress and worry to staff", and it had "no option but to withdraw them from their duties in order to fulfil its duty of care".