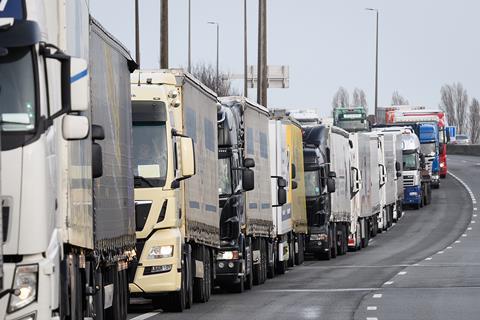 Boris Johnson's negotiating position is missing essential details on minimising border controls and potential disruptions from next year, industry figures have claimed.
The government released its mandate for the next stage of trade negotiations with the EU today, warning it would threaten to walk away if talks had not progressed by June.
Downing Street's strategy will focus on "liberalised market access for trade in goods", with no tariffs or quotas on goods, while looking to reduce border controls further by simplifying checks on products like meat and cheese.
But "they must go much further if they are to prevent future disruption at the border," said Andrew Opie, director of food and sustainability at the BRC.
The mandate reiterates the prime minister's calls for a Canada-style deal, though a New Zealand-style arrangement is proposed for export health certificates. This would reduce the proportion of animal product goods requiring border inspections to less than 4% – rather than on roughly half as would happen under a no-deal scenario.
But the greatest flashpoint in negotiations is likely to be the EU's 'level-playing field' demands on standards such as agriculture and the environment.
Brussels has told the UK it must maintain its existing standards in order to maintain tariff-free access to European markets, though Johnson has recently rowed back on the "robust commitments to ensure a level playing field" signed last year in the UK-EU political declaration.
Fisheries will be another sticking point. The UK mandate states Britain must regain full control over its fishing grounds, agreeing annual quota deals with the EU. Brussels insists fishing rights for European vessels must be included in the deal or there "won't be any agreement at all" according to Michel Barnier.
But speaking in the House of Commons today, Michael Gove said "our fishing waters are our sovereign resource and we will determine other countries' access to our resources on our terms."
The mandate has provided little clarity to businesses in Northern Ireland, who remain confused over the status of a border in the Irish Sea.
The government previously said there would be no border between Great Britain and Northern Ireland, though Michael Gove could only promise today there would be "unfettered access for Northern Irish businesses to rest of the UK", without clarity on goods moving the other way.
Aodhán Connolly, director of the Northern Ireland Retail Consortium, said businesses were still unable to prepare for what would come after the transition period.
"Northern Ireland seems to have the maximum of cost and paperwork burden with few benefits under the Northern Ireland protocol," he said.
The UK government's own assessment on the Irish protocol, in October 2019, said border costs could range from £15 to £56 per declaration.
"These factors will be dwarfed by the cost of complying with export rules," said Connolly.