You can read our feature on the impact of Brexit on the food & drink industry here.
Stifle it. Just 9% in the industry are optimistic that Brexit could boost growth for their business, while 22% think it could spell a decrease in the size and scale of growth over the next few years.

"Positive growth doesn't tend to come from going backward," was one person's summary.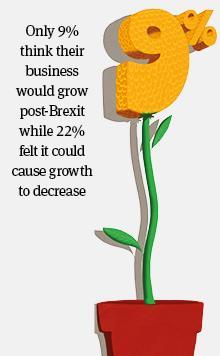 "We rely on the sale of goods that are predominantly imported (Champagne, still wine, spirits) and any interruption in trade agreements could lead to price increases and/or volatility that could hurt our bottom line."
Another picked out currency devaluation and fluctuations in the exchange rate as a growth inhibitor. "We believe GBP will be significantly weakened by an exit," they said, and "we will have to take cost cutting measures to compensate which will have an impact on long term sustainable growth."

"The resulting uncertainty could impact the wider economy, which in turn could impact our sales," said another.

These same concerns are echoed across the three sectors of food and drink, although marginally more working in food service believe growth could rise outside the EU (13%) compared to retailers and suppliers.

For those hopeful food and drink will see a boost outside the EU it's the removal of red tape that will make a change.

"Too much legislation and bureaucracy from Brussels stifles and restricts competition and growth in the UK" was one view, with 45% believing growth would be unaffected across the industry.