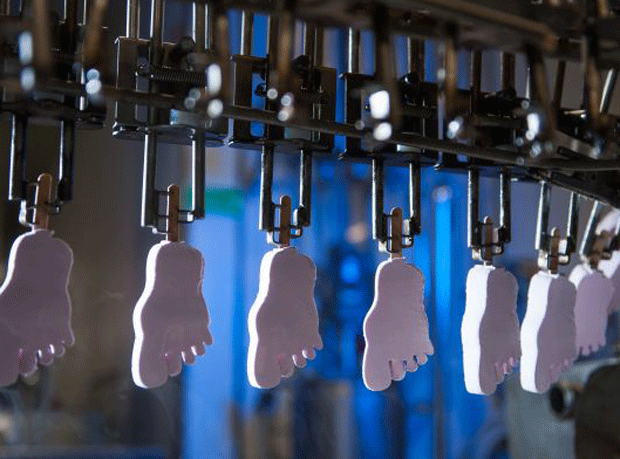 No one at Unilever is quite sure why Funny Feet was dropped. Or when. It was launched in 1980. And it was pulled in "the early 1990s".
"There wasn't a conscious decision to get rid of Funny Feet," found Noel Clarke, Unilever's brand building director, Ice Cream UK & Ireland, when he enquired as to Funny Feet's demise. "It was just pushed out by the sheer weight of innovation - the 1990s saw the launch of Magnum and Solero, for example - and growing sophistication in the category."
But sophisticated or not, Funny Feet is making a dramatic comeback, with the simple, pink, foot-shaped, strawberry-flavoured ice cream set to go on sale from 30 September via the take-home channel.
Funny Feet's return follows a huge response to our Bring Back a Brand campaign, launched as part of the celebration of The Grocer's 150th anniversary in 2012. An unashamedly nostalgic trip down memory lane, the campaign kicked off on 14 January 2012 with a shortlist of 10 'retired' brands for readers to choose from, including Funny Feet, Hai Karate aftershave, Vim scouring powder, Spangles sweets and Fish & Chips crisps.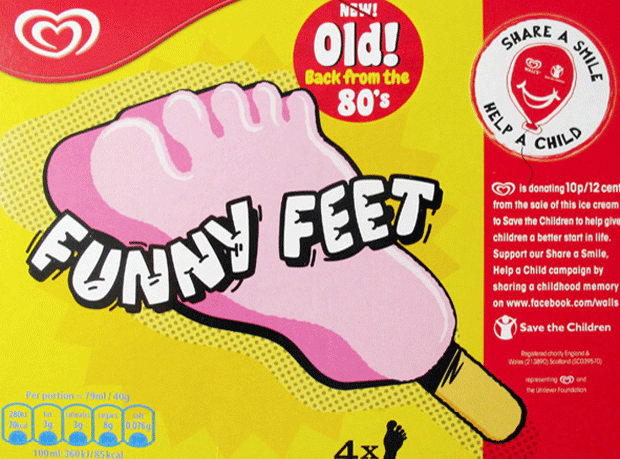 Watch the video
Funny Feet returns - thanks to The Grocer
How The Grocer's Bring Back a Brand campaign resurrected an 80s classic
From the outset, Funny Feet was one of the frontrunnners and, while further golden oldies were nominated and received strong backing, Funny Feet continued to score highly when we posted a revised shortlist on a dedicated Facebook page.
Funny Feet received almost 6,500 votes. But it wasn't just the volume of support for Funny Feet that was powerful. As consumers flocked to the Facebook page, they offered up some powerful insights into the enduring appeal of the brand. "Funny Feet resonates with consumers not simply as a retro product," says Duncan Walters, MD of Brand Engage (which built our Facebook page). "We live in uncertain times, and parents also feel their children are growing up too fast that simple pleasures, and something of the innocence of childhood, has been lost."
So, working with Brand Engage, and design agency Elmwood, to reimagine the Funny Feet brand for a 21st century audience, we approached Unilever in April, and presented the insights and ideas for a relaunch.
Funny Feet at the double
Unilever's response was swift. "The research really resonated with me. I'm bang on the target market, a child of the 1980s, with young kids. And Funny Feet brought back great memories. It was about carefree, silly fun, and sun cream and melting ice cream, and when I sat down and talked about it with my team, I found myself embellishing the research and immediately realised the power of the insight."
"Nostalgia is such a big trend in the UK, and Funny Feet was so fondly remembered"

Brigitta Holland, Unilever
Clarke's enthusiasm rubbed off on even the most unlikely colleagues: none more so than Wall's kids brand manager Brigitta Holland. A native German, she had no knowledge of the Funny Feet brand, but she "just picked it up and ran with it" says Clarke.
"Nostalgia is such a big trend in the UK, and Funny Feet was so fondly remembered," recalls Holland, "I quickly realised we were on to a huge winner."
The biggest challenge was to find the Funny Feet mould. "What I hadn't realised at the start was that we had tried to bring Funny Feet back before," Clarke recalls. "On the previous occasion, we hit the buffers, as we were told we didn't have the mould, and it was going to involve big budgets for new moulds, and a 12-month turnaround." After Holland's initial enquiries across the regional and global ice cream teams again drew a blank, the return of Funny Feet once again looked a distant prospect.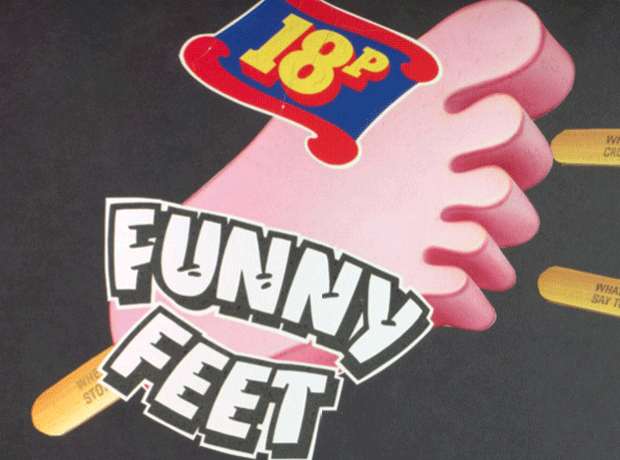 Until, that is, a colleague went on holiday to Spain and discovered the pink tootsies under the brand name Frigo Pie. "I called my European team again," recalls Holland. "'Oh, Frigo Pie, yes, of course we have the mould,' they said. 'We relaunched it a few years ago. It's the best-selling kids ice cream multipack in Spain.'"
Finding the mould wasn't the only challenge, though. Clarke's team had to check that Funny Feet had a "pink passport" (clearance from Unilever's legal teams that the recipe contains no additives) redesign the packaging (including the addition of front-of-pack labelling) secure a production slot provide a volume forecast secure some budget (using a link-up with Save the Children) and, finally, engage with the trade to secure listings in time for the Week 36 ice cream review.
"Typically, the standard process for a piece of innovation is 18 months, with each stage lasting three months. To turn it round in eight weeks and hit the front end of the winter season was fantastic," says Clarke. And he is delighted with the "overwhelmingly positive" response, securing listings with all the major multiples.
Marketing
The Wall's team are now finalising the marketing plan. PR will play a key role, with a nostalgia survey and experiential visits to key media titles and bloggers. And Funny Feet will be the "hero product" in the UK team's contribution to Unilever's global Save the Children programme (a 10p donation will be made for every pack purchase, with a £500,000 target).
But the response of the trade, the boost that a hot summer has given to ice cream sales, and the power of the insight has given Clarke confidence in the longevity of Funny Feet.
"We had a conversation about waiting till next summer, and launching more variants, and using impulse," says Clarke. "But we felt Funny Feet was too topical to wait - 6,000 people can't be wrong - so for the time being it's a take-home relaunch, but my end goal is that next year we take it into impulse. I would love to see the old chocolate-flavoured Freaky Feet return, and you can quickly come up with exciting new seasonal variants, but I don't want to get ahead of myself. I'm excited by the potential. Let's see what happens."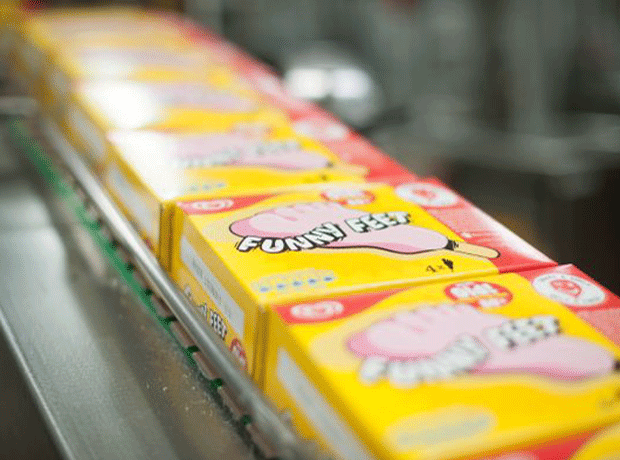 Bring Back a Brand: The Grocer's campaign launched on 14 January 2012. Unashamedly nostalgic, the aim was to find the UK's most fondly remembered brands.
The original shortlist of 10: featured Funny Feet along with old favourites like Cresta, Texan chocolate bars and Hofmeister lager, with votes originally registered via thegrocer.co.uk
Facebook: after receiving nominations for over 50 further dormant brands, our top 10 was revised and posted on a dedicated Facebook page with an incentivised voting app.
Viral: As well as 10,000 'likes' and 6,500 votes for Funny Feet, the Facebook page provided some powerful consumer insights on the enduring appeal of Funny Feet.
Presentation: Insights from consumers were used in a presentation from The Grocer and its partners in which we reimagined and reactivated Funny Feet as a 21st century brand.
Brand licensing: Nostalgia surrounding Funny Feet was already running high, our research found, with a wide range of memorabilia widely available.
Frigo Pie: the Wall's kids team were told the mould no longer existed, but eventually tracked it down by accident, when a Unilever colleague found Funny Feet on sale in Spain as Frigo Pie.
Save the Children: Celebrating simple, childish fun, Unilever is using Funny Feet as the hero product in its support of Save the Children, donating 10p for every pack sold.