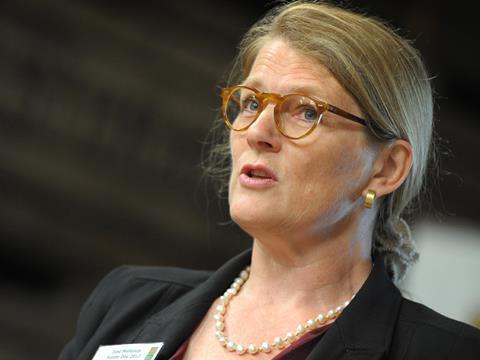 The Groceries Code Adjudicator should be given additional powers to cover the entire dairy supply chain, a committee of MPs has heard.
Giving evidence on Tuesday (25 November) to the House of Commons Environment, Food and Rural Affairs Committee, representatives from Farmers for Action (FFA), the NFU and the Tenant Farmers Association (TFA) all called for adjudicator Christine Tacon to be given the power to investigate the relationship between dairy processors and retailers.
"There is a lack of transparency between processors and the retailers regarding loss leaders," said TFA chairman George Dunn who, along with the NFU's dairy board chairman Rob Harrison, bemoaned the "smoke and mirrors" at play by retailers over the pricing of milk.
Both warned the adjudicator needed "more teeth" and a much broader remit to investigate practices further down the supply chain.
With dairy producers continuing to struggle with low farmgate prices, FFA chairman David Handley added: "We can easily track prices between the producer and processor, but it's impossible to do the same between the processor and retailer."
If the industry could access this information it would be able to "expose much more" the practices of the retailers, who he claimed were passing on the cost of the supermarket price war directly to producers, despite suggestions by the retailers to the contrary.
"We would then be able to follow the paper trail to see who is paying for these price reductions," added Handley, and would ensure farmers were treated more "fairly and equitably".
Tacon, who was also giving evidence to the committee, said it would be inappropriate for her to comment on whether her role would be expanded but confirmed she had not had any discussions with the government about a change in her role.
Tacon added she was pleased with her "teeth" when asked by the committee if she had enough powers to investigate wrongdoing in the grocery sector. But she conceded the adjudicator was yet to begin an official investigation, despite being launched last year, while the government had yet to confirm the maximum fine the adjudicator could impose.
"I have seen progress that we are improving things due to the threat of action we can impose, behaviour is changing," claimed Tacon.