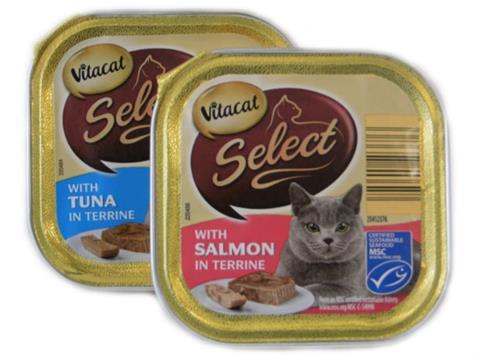 Aldi will become the first UK retailer to sell an MSC-certified own-label catfood when it launches a range of Vitacat Select aluminium trays this month.

The 100g packs (rsp: 21p) are available in two variants: with salmon in terrine, and with tuna in terrine.

Figures released last week by the Marine Stewardship Council showed that Aldi and its rival discounter Lidl had both made big strides on sustainable seafood in the past 12 months, overtaking Marks & Spencer in terms of the number of MSC-certified SKUs listed. Among major retailers, they are now behind only Sainsbury's and Waitrose on the measure. Aldi now stocks 54 MSC-certified products - 37% of its wild-caught range.

"At Aldi we're delighted to be able to continuously offer our customers and their pets new sustainable products," said joint MD of corporate buying Tony Baines.

"This new launch is the latest addition to our extensive range of MSC-approved fish and seafood, with 54 responsibly sourced products available at Aldi throughout the year."

The first branded MSC-certified petfoods in the UK were introduced by Mars in 2011 on selected Whiskas and Sheba products.