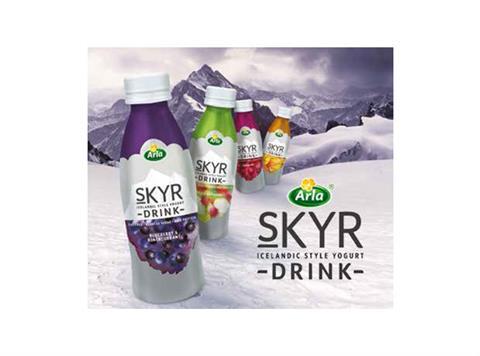 Arla Foods has extended its range of Icelandic-style Skyr yoghurts to include a new on-the-go drinking format.

Arla Skyr Drinking Yogurts are available now from the multiples in mango & passionfruit and blueberry & blackcurrant flavours (rsp: £1.50/350ml)

The co-op, which launched the fermented dairy product in a yoghurt range almost a year ago, said the fat-free, reduced-sugar and protein-rich dairy drinks were geared towards busy people seeking healthy breakfast choices.

"We were over the moon with Arla Skyr's performance in 2015, with the product beating all expectations," said Sam Dolan, Arla Foods senior brand manager. "It was a real category success story - in part, we believe, because consumers are starting to recognise that healthy choices shouldn't be solely based on low fat and that in fact sugar levels are equally important."

Last month rival MS Iceland secured its first-ever UK supermarket listing in Waitrose for its Iceland-manufactured Skyr yoghurt.

The Icelandic co-op, which sources its milk from 600 farms in Iceland, said the Waitrose listing marked the first time real Icelandic-made Skyr had been sold in any significant volume in the UK.

MS Iceland has clashed on several occasions with Arla over its rival's German-made Arla Skyr. It won an injunction in Finland last year ordering Arla to stop using the word 'skyr' after arguing successfully that it owned the trademark.

Arla said it was appealing the decision, but its Skyr product is currently not available in Finland.