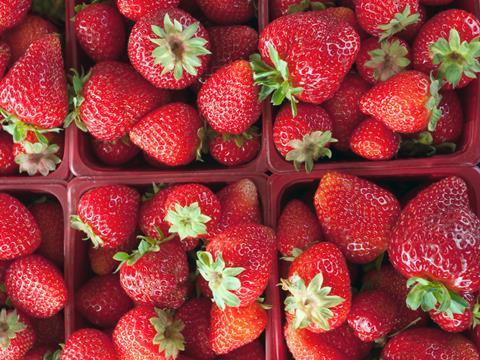 Britain will enjoy a record crop of strawberries this summer, growers claim.

The British strawberry crop is set to reach 74,000 tonnes this season, up 11% from last year and "equal" to the growing consumer demand for the berries, said British Summer Fruits.

UK strawberry sales have now reached £564 million [Kantar 52 w/e 28 April 2016], accounting for 51% of total soft fruit sales - which this year hit a record high of £1.1bn.

Berry consumption is up 132% in the UK over the past decade, boosted by growing awareness of their benefits and better availability, thanks to increased acreage, new varieties and innovative growing methods to extend the British season.
"Berries used to be a luxury, but now they are a delicious staple, consumed as part of a healthy diet for many people," said chairman Laurence Olins.