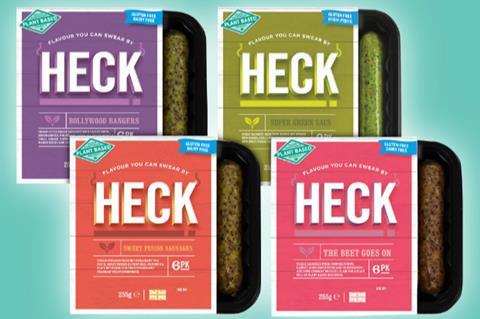 Yorkshire sausage maker Heck has secured Australian listings for its plant-based sausage range as part of an export push to fund the building of the brand's tourist facility.
Its four-strong vegan lineup features Indian-inspired Bollywood Bangers, Sweet Fusion sausages using Thai flavours, beetroot-based The Beet Goes On, and Super Green sausages with kale and quinoa. They are due to roll out into 800 independent retailers at the end of March.
Australia was the third fastest-growing market for vegetarian and vegan produce in 2018, Heck said, while the market size came in fourth behind Germany, the US and the UK [Euromonitor 2018].
The listings were announced days after EU funding for Heck's planned Sausage World tourist attraction in Bedale, Yorkshire was withdrawn, forcing the brand to shelve the project.
Work on the proposed £4m visitor centre with restaurant had been due to begin this summer after plans were approved, but the company later found out the grant it had intended to fund the project with was no longer available.
Co-founder Jamie Keeble blamed Brexit for losing out on the funding, saying the brand would now be forced to obtain funding from elsewhere. Its first option was to self-fund the build by increasing exports, he added.
"Brexit is creating huge uncertainty and we don't believe there will be any investment from central government to help startups," said Keeble. "We had tremendous support at the beginning but that has all disappeared down the Brexit plug hole."
The brand also announced its first Irish listings, where it is due to roll out its Feck pork sausages with a hint of stout to celebrate the launch. The Feck sausage was initially billed as a seasonal edition, first launching for St Patrick's Day in 2016.