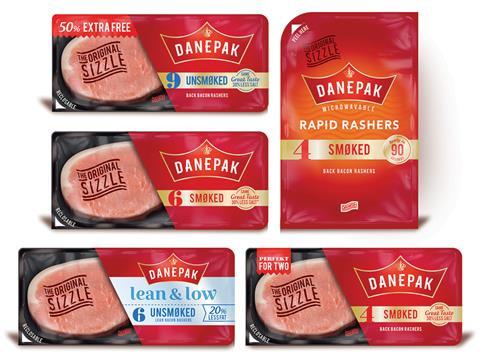 Tulip will re-launch its Danepak bacon brand in Tesco and The Co-op stores this month.

The multimillion re-launch, which was first mooted in January, will see Danepak return to shelves with fresh branding and "innovative" re-closable packaging.

Tulip is also reintroducing two "old favourites" to the Danepak range - its microwaveable Rapid Rashers and low fat Lean & Low bacon.

The re-lauch follows 18 months of research into what consumers want from bacon. Tulip worked with London ad agency Isobel and design specialists 1HQ.

It claims Danepak will be the only bacon brand to use patented re-closable packaging, which is a "first for the UK". "Our research showed us current bacon packaging is a real bugbear for consumers who, nine times out of 10, will go for a knife or scissors to open the pack because it is so hard to do by hand," said Tulip brand and licensing manager Kate Charman. "Our new pack uses a wider seal around the edge of the pack, making it easy to open, easily reclosable and a joy for consumers to use."

The relaunch will be supported by an "extensive" above the line and social media campaign - with a series of TV ads highlighting the brand's Danish heritage due to hit screens later this year and a social media push launching this month , inviting followers to join 'The Serious Bacon Club'.

The new-look range will be rolled out across Tesco and Co-op stores this month, with further listings to follow.

The range will include smoked and unsmoked variants of six and nine rasher packs of standard bacon and four rasher packs of Rapid Rashers.

Danepak sales reached £23.2m last year [Kantar 52 w/e 15.06.2015] and Tulip introduced a new curing proces for the bacon in January, which it claims has reduced the salt content by 30% compared to conventionally cured bacon.

The company said it was "exploring options" for using the curing process across other products.