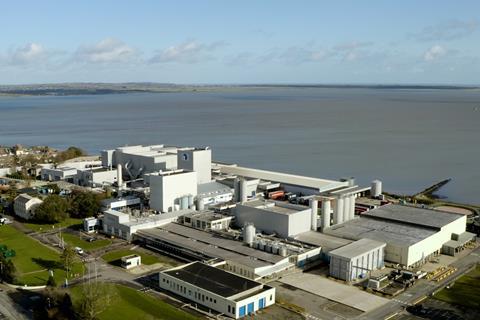 Danone's baby formula production site in Wexford, Ireland has been certified carbon neutral by the Carbon Trust.
The site produces baby formula brands including Aptamil, Cow & Gate and Nutrilon, and distributes them to 41 countries around the world.
It sources 100% renewable electricity and uses a biomass boiler powered by sustainable wood fuels – from the local wood chipping industry – saving 10,000t of CO2 compared to the plant's emissions in 2010, and reducing its direct carbon footprint by 70%.
The certification was a step towards achieving its goal of zero net carbon emissions by 2050, said Danone, and illustrated the carrying out of its 'One Planet, One Health' action plan to protect the health of people and the planet.
Danone chairman and CEO Emmanuel Faber said it was "more important than ever" to protect its local ecosystems and "create sustainable value for everyone".
"The carbon neutral certification of Danone Wexford is an excellent illustration of implementing climate action to protect the health of the planet and of the people," he added.
The factory had also achieved zero waste to landfill, meaning that all waste from production processes and packaging materials is recovered, and had developed a digital roadmap of initiatives to become paperless, using drones for monitoring inventory and "innovative technologies" for monitoring energy, Danone said.