Owen Paterson, secretary of state for environment, food and rural affairs, has been replaced in David Cameron's cabinet reshuffle.
Paterson will be replaced by Liz Truss, parliamentary under-secretary of state for education and childcare since September 2012, as part of the cabinet shake-up just 10 months ahead of the general election. (See Who is Liz Truss?, below)
Paterson, MP for North Shropshire and former Northern Ireland secretary, replaced Caroline Spellman at the Department for Environment, Food & Rural Affairs in September 2012. A controversial figure, Paterson has angered animal rights campaigners with his ardent support of the badger cull, which he has now halted pending further analysis of the programme's effectiveness.
National Farmers' Union president Meurig Raymond thanked the outgoing minister "for his hard work and dedication to farming and agriculture over the past two years".
"He showed an understanding of farmers and the farming industry and knew how important food production and food security is," he added.
Raymond's views were echoed by Barney White-Spunner, executive chairman of the Countryside Alliance, who said Paterson "always had the interests of the countryside and rural communities clearly at heart".
But other groups were less enthusiastic about his tenure, including the The Badger Trust - which has regularly clashed with Defra over its proposals to cull badgers and has been given permission to mount a judicial review against the government's badger culling policy.
And Greenpeace executive director John Sauven stated the "the badgers had outlasted Owen Paterson".
Timeline: Owen Paterson
1956: Born in Whitchurch, Shropshire.
1997: Becomes MP for North Shropshire.
2003: Appointed shadow agriculture, fisheries and food minister.
2011: While Northern Ireland secretary, completes a 1,000km horse ride across Mongolia alongside his wife Rose. Out of 23 participants, the Patersons are among the 10 who ultimately complete the gruelling journey.
September 2012 – Appointed secretary of state for environment, food and rural affairs at DEFRA. Sparks controversy for his opinion on potential badger cull, stating he "very much hopes" for widespread culling to prevent spread of TB in cows.
October 2012: Announces plans for a widespread badger cull will be delayed for one year.
October 2013 – Causes more controversy with comments on GM food. "It's just disgusting that little children are allowed to go blind and die because of a hang-up by a small number of people about this technology", he says. In the same month, Paterson tells the BBC that badgers "have moved the goalposts" in cull debate.
February 2014 – Paterson's response to UK flooding crisis is scrutinised when he abstains from hosting emergency COBRA meeting to have urgent surgery for a detached retina. BBC news reports Paterson was told he would lose his sight if immediate action was not taken, and PM David Cameron chairs COBRA meeting in Paterson's place.
15 July 2014 – Paterson replaced by Liz truss. One peer tells The Mirror that loss of Paterson could "cost 12 million votes in the countryside." Badger puns in abundance on Twitter.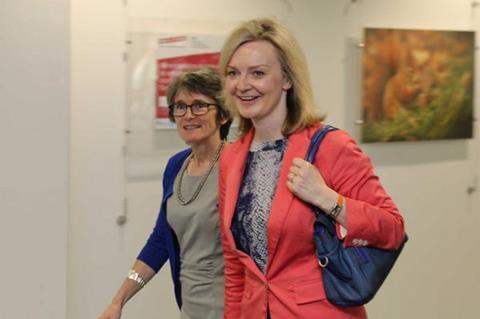 Who is Liz Truss?
Yorkshire-born Liz Truss became Conservative MP for the rural constituency of South West Norfolk in the 2010 general election and was appointed Parliamentary Under Secretary of State for Education and Childcare in September 2012.
She sat on the Justice select committee from 2010 to 2012 and was a founder of the Free Enterprise Group of Conservative MPs, which campaigns for economic reform and a positive attitude to profit making enterprise.
According to her official website, she has campaigned to ensure farmland is used for food production, both in the face of the government's changes to planning laws and in the wake of the winter's flooding, arguing that the Environment Agency's funding for flood prevention does not value farmland highly enough.
She has previously expressed concern about the level of regulation in food exports, and has argued the Department for Business, Innovation & Skills has not seen food and farming as a mainstream industry. Her Parliamentary voting record shows she was in favour of the badger cull, and supports the selling of England's state-owned forests.
Before joining Parliament, she was deputy director of Think Tank Reform and served as a Conservative Party Association chairman and councillor. A qualified management accountant, she spent ten years in the energy and telecommunications industry as a commercial manager and economics director. She read philosophy, politics and economics at Oxford.