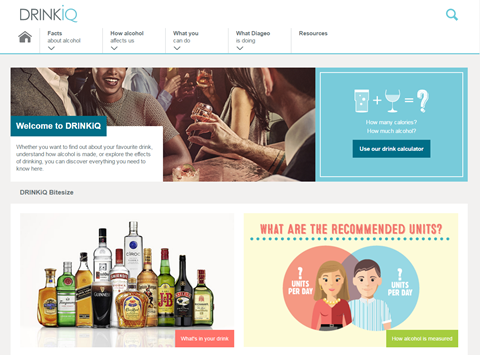 Diageo has added full nutritional information about all of its brands to its responsible drinking website, DrinkIQ.com.

The information, which covers the calorie, carbohydrate, protein, saturated fat, sugar, caffeine and sodium content of every product sold by the company worldwide, is one of several new features added to the site.

Diageo has also added a 'drinks calculator' to help users to track the amount of alcohol they imbide per serving and how many calories they have consumed across a range of drinks. There is also aan online section featuring tips on responsible drinking, including details of how food, age, size and gender affect the way the body processes alcohol.

"As people become more and more interested in their diet and lifestyle choices, we need to play our part," said Carolyn Panzer, alcohol in society director, Diageo.
"We know consumers want nutritional information about what they drink - just as they do with the foods they eat. They also want a clear and easy way to know how much alcohol they are drinking. Alcohol is alcohol. There is no drink of moderation, only a practice of moderation."

The site update is one a range of initiatives aimed at promoting responsible drinking launched by drinks companies in recent weeks. Last week, Heineken launched the global ad campaign 'Moderate Drinkers Wanted', with the message that drinkers who practice restraint are more attractive than those who don't.

Earlier this month, AB InBev pledged it would provide full on-pack nutritional information for all its brands, with the labels appearing on at least 80% of European volumes by the end of next year. The news followed a similar announcement from Diageo last March.