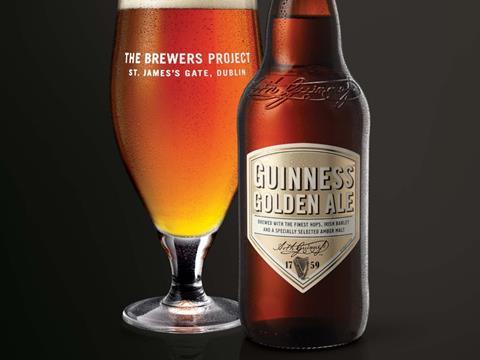 Diageo is further expanding its Guinness brand into the premium bottled beer market with the launch of a golden ale.
Rolling out next month, 4.5% abv Guinness Golden Ale is brewed using Guinness yeast, hops, Irish barley and amber malt. The brewer described it as having "subtle biscuit flavours from the malted barley that perfectly compliment the ale's pleasing bitterness and delicate hop aroma, giving way to a refreshingly clean finish".
Backed by a £4.5m marketing campaign including PR, out of home, cinema, digital and in-store activity, the launch follows the roll-out of porters Guinness West Indies and Guinness Dublin last year.
Guinness is aiming to tap interest in premium bottled and craft beers with its new drinks, which were developed at the Guinness Brewers Project, described by Diageo as "a small innovative brewery with a team given license to reinterpret historic recipes and bring to life new ones."
When it launched the porters last September, Guinness estimated the new range could deliver £58m incremental value to the premium ales category over the next two years across the on and off-trade.