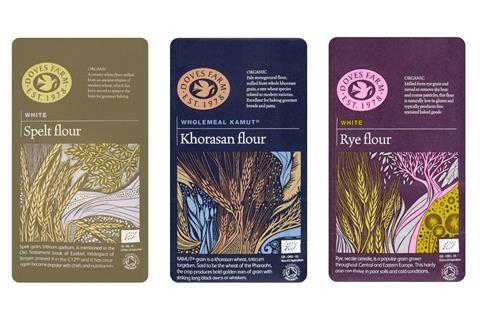 Doves Farm has launched four organic ancient grain flours into Tesco.
Stoneground Wholemeal Buckwheat Flour (rsp: £3/1kg), Stoneground Kamut Khorasan Wholemeal Flour (rsp: £4/1kg), White Spelt Flour (rsp: £3/1kg) and White Rye Flour (rsp: £2/1kg) rolled out this week into the retailer. Tesco already stocks its Wholemeal Spelt and Wholemeal Rye flours.
Doves Farm said that rye, buckwheat, spelt and kamut Khorasan (an oriental wheat) could be used in baking to "add variety" to breads, cakes, pastry and more.
The grains were enjoying a "renaissance" amongst bakers looking to add something new to their baking or looking to put new twists on traditional recipes, it added.
Tesco buying manager Kasia Plaza said shoppers were looking for "new textures and flavours" in their baking.
It comes as sales of rye, spelt and buckwheat rose by 19.9% last year – outperforming the total flour market, which declined 1.4% [Kantar 52 w/e 21 April 2019].
Doves Farm isn't the only supplier cashing in on the ancient grains boom: Aduna last week added fonio to its lineup – both Sainsbury's and Unilever have tipped the recently-classified novel food as a potential future trend.