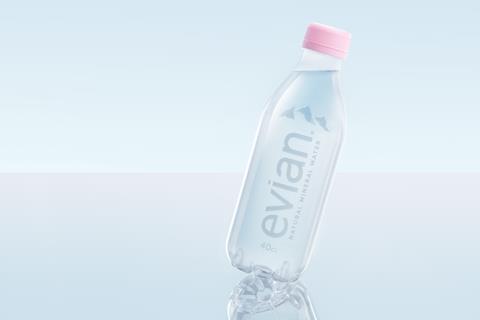 Evian has unveiled a label-less bottle made from 100% recycled plastic.
The new 400ml bottles, which feature an engraved logo in place of a label, are adorned with 'Evian Pink' bottle caps, and will be distributed around hotels, restaurants and hospitality in France from this month, with other international markets to follow in September.
Evian said the bottle was "a key milestone" in its journey to become a "fully circular" brand by 2025, making all of its bottles from 100% recycled plastic.
Global brand VP Shweta Harit said the new bottle positioned Evian as "a pioneer in sustainable design solutions" and acted as "tangible proof" of its commitment to becoming fully circular.
This particular innovation would start in limited distribution but could provide a solution globally for a sustainable future, said Evian, especially for e-commerce where there is no need for barcode labelling.