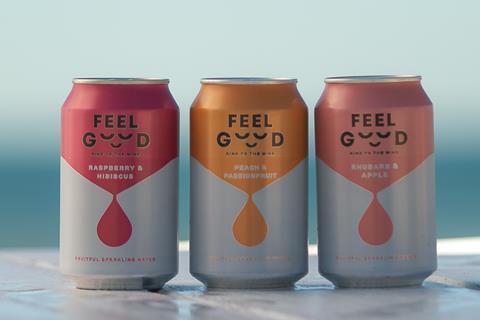 Nichols is relaunching its Feel Good Drinks brand as a separate incubator business.
It will relaunch Feel Good Drinks with its own separate team led by general manager Ed Woolner, with a focus on sustainability and "purpose".
"It's an epic opportunity," Woolner told The Grocer. "When you have your own business, you spend 90% of your time worrying about money – burning cash and raising capital. In this situation you can do all the things you love and are passionate about, but you're not sitting there every month saying, 'we're going to run out of money'."
The first drinks to launch under the rebrand will be a trio of fruity sparkling waters, each containing 15% real fruit juice and 100% natural ingredients.
Three flavours – Peach & Passionfruit, Raspberry & Hibiscus and Rhubarb & Apple – hit Ocado, Booths and WH Smith Travel this week (rsp: £1.19/330ml).
As part of its sustainability push, Feel Good Drinks has launched a new '3% for the People and Planet Fund', whereby it will donate 3% of sales to charities and non-profits that support personal and planetary wellbeing.
Woolner explained the fund was Feel Good Drinks' way of giving back. "We know we are taking raw materials from the planet, but by donating and partnering with charities that support personal and planetary wellbeing we hope to help protect the natural environment that gives us so much," he said.