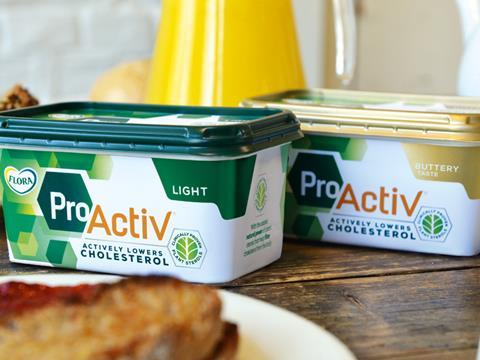 Unilever has revamped its Flora ProActiv brand with new packaging underlining the science behind its cholesterol-lowering claims.

The new pack designs, launching in stores this week, feature a new logo highlighting the active ingredient in ProActiv products, plant sterols, which have been shown to lower blood cholesterol in clinical studies.

Albane Jeanbin, Flora ProActiv brand manager at Unilever UK, said the new packaging was designed to push a more premium, healthy lifestyle message.

"By communicating the added benefit of plant sterols on pack we're appealing to shoppers who are actively looking to lower their cholesterol," she said. "What's more, by highlighting the science behind our products and strengthening the premium look on pack, we're giving a reason for consumers to trade up."

The revamp is part of a £1.5m push for the ProActicv brand from October to December, and will be supported by a new TV ad featuring the brand's mini yoghurt drinks range for the first time, as well as its spreads.

The Flora ProActiv range includes Flora ProActiv Buttery, Light and Olive spreads, available in 250g (rsp: £2.24) and 500g (rsp: £3.49), Flora ProActiv Yogurt Mini Health Drinks: Pomegranate & Raspberry, Strawberry, Original, and Mango & Cherry (rsp: £3.49) and Flora ProActiv Skimmed Milk one-litre (rsp: £1.39).