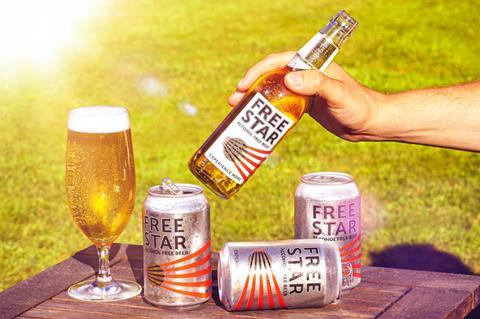 Freestar has become the first alcohol-free beer brand to win B Corp certification.
Its beers are made by a process it claims uses 80% less water and creates 70% less waste than other brands.
The beer production – alongside its use of 100% recyclable materials and commitment to being a net-zero carbon emissions business by 2030 – demonstrated how sustainability had been an "integral part" of the brand since its launch last year, it said.
As an official B Corp, Freestar will be assessed annually across four areas – community, environment, customers and governance – so shoppers know "it doesn't just taste good, it does good too", the brewer said.
Co-founder Charlie Crawley added: "We want our customers to know that by drinking Freestar, you're not having a negative impact on the planet or the community, and with the official B Corp certification, we can now guarantee that with every sip".
Freestar joins the likes of Ben & Jerry's, Innocent and Patagonia as part of a network of over 3,300 businesses globally, which are B Corp certified.
William Reed – the publisher of The Grocer – has launched an exhibition exclusively for the low and non-alcoholic drinks sector. For more information visit low2nobev.com