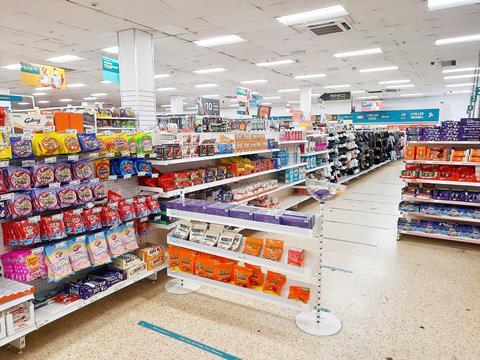 The government's ban on products high in fat, sugar or salt (HFSS) from prominent display locations is driving a shift towards healthier food, exclusive research for The Grocer suggests.
Sales of HFSS-compliant products held up better than their non-compliant equivalents in fresh food, frozen and impulse, found latest figures from NIQ, which cover the first nine months of the restrictions.
The only exception to the rule was in ambient grocery, according to total sales figures for the year ending 30 June 2023.
The figures offer the first substantial glimpse into the impact of the new rules, which came into effect on 1 October 2022 – and are the strongest evidence yet that the plans are working.
HFSS-compliant volumes fell slower than non-compliant volumes in fresh food – down 5.3% versus 6.8% – the NIQ figures showed. The same picture was evident in the frozen category, where volumes of compliant products fell 2.3%, and non-compliant lines fell at a faster rate, 8.9%.
The biggest contrast was in impulse. There, volume sales of HFSS-compliant products were up 5.6%, while volumes of non-compliant equivalents were flat.
The change is illustrated even more starkly in some of the specific category breakdowns. Volumes of HFSS-compliant biscuits were up more than 10%, compared with 0.1% for non-compliant products, crisps with the green light for promotions up by more than 70% in volume sales compared to those barred up 1.7%.
This evidence comes despite ministers rowing back on further plans for a ban on multibuy HFSS promotions – another key element of the original obesity strategy.
In June this year, PM Rishi Sunak moved to shelve the ban on volume deals amid cost of living concerns.
Campaigners said the government was ignoring the evidence in favour of HFSS restrictions. "Yet again we see the power of a well-evidenced, well-designed piece of regulation in moving the spotlight away from HFSS products," said Children's Food Campaign co-ordinator Barbara Crowther, who said the ban on promotions in areas such as aisle ends had led to a surge in health innovation.
"We have seen manufacturers bringing out new compliant products as well as retailers redesigning their store formats, removing chocolate and sweets from till areas and store entrances, so it's no surprise to see there's now been a significant shift in sales overall.
"However, this policy was also designed to work hand-in-hand with other measures to restrict TV and online advertising, and multibuy price promotions, and just imagine the combined effect that could have been had if they had not been delayed. The government should look again at where further smart regulation of the food industry could drive even greater impact for future health."