Kellogg's celebrates Queen's record reign with Queen Flakes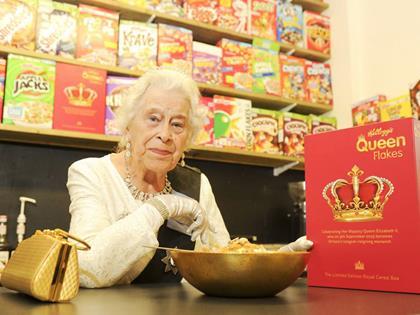 Kellogg's has marked Queen Elizabeth II's record-breaking reign with the creation of what it reckons is the world's poshest cereal: Queen Flakes.
The limited-edition flashy concoction is on sale exclusively (and only for eating in) at Manchester's Black Milk Cereal Dive from today, priced £6.30 a bowl. The cereal is a combination of Kellogg's Corn Flakes and Special K - said to be HRH's favourite cereals. To make it fit for royalty, Kellogg's has decorated the flakes with gold leaf and incorporated macadamia nuts and edible jelly diamonds and pearls.
The cereal company suggested serving Queen Flakes with the "finest available" milk and, for those wanting to party like it was 1953, topping it up with a drop of Elizabeth's favourite tipples, Dubonnet and gin.
Elizabeth became Queen upon the death of her father, George VI, on 6 February 1952, aged 25, and was crowned at a coronation ceremony in Westminster Abbey on 2 June the following year. Later today, at the age of 89, she will become Britain's longest-reigning monarch, surpassing Queen Victoria.
"We wanted to congratulate the Queen on her spectacular reign by creating a cereal in her honour," said a Kellogg's spokesman. "Despite tough competition from names such as 'Monarch Munch' and 'Liz's Loops', we felt 'Queen Flakes' said it best. 
"Kellogg's has held a Royal Warrant as a purveyor of cereals for decades, and is an official supplier to the Palace."