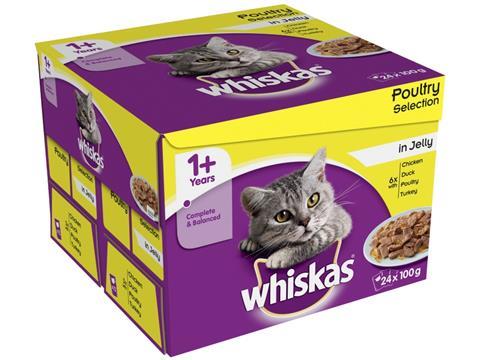 Mars Petcare is hoping to revive sales of Whiskas with a new look and 'best ever' recipe.
Rolling out to stores now, the new pack design would help educate owners about their cat's needs at every age, with life stage messaging from kitten through to senior – which is seven years old, sooner than commonly perceived, said Mars.
"Nearly half the cats in the UK are older than seven, but less then 10% are fed senior food," said marketing director Tom Lindley. "We have included age icons to give consumers absolute clarity when choosing the food that is right for their cat's life stage."
The activity follows a tough 2014 for the brand, which suffered a 13.4% - or £35.8m – year-on-year slump in sales [Nielsen 52w/e 3 January 2015]. This allowed rival Nestlé Purina brand Felix – up 6.2% by value over the period – to overtake Whiskas in The Grocer's list of Britain's Biggest Brands.
Mars has also revamped and expanded its functional treats range, repackaging it in an "easy-to-navigate format with clear on-pack claims".
Joining the range are Whiskas Milky Treats, which have been designed for kittens and contain vitamins and minerals as well as calcium to help support the growth of healthy teeth and bones.
Mars is rebranding its former Whiskas Katzinis treats as Whiskas Immune Support. One serving would provide at least 15% of the minimum daily requirement of taurine and vitamin E to support natural defenses, said the supplier.
A new TV ad will air from July to support the treats and 'best ever recipe' message as part of a £10m marketing investment, and millions of free pouches are being sent to cat-owning households. Shoppers will also be offered a money-back guarantee through a national press campaign.