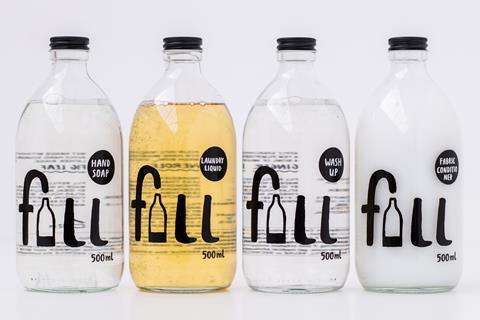 Müller's Milk & More has launched a new service offering refillable laundry and cleaning products in reusable glass bottles.
Called Fill, the range spans hand soap, detergent, fabric conditioner and washing-up liquid – all of which can now be delivered to shoppers' doorsteps in screen-printed bottles.
Once finished and rinsed, the bottles can be collected from doorsteps by Milk & More to be refilled and then reused.
The Fill range includes Hand Soap Fig Leaf (rsp: £6/500ml), Laundry Liquid Neroli (£6), Fabric Conditioner Neroli (£5), Wash Up Ginger (£4) and pump dispenser (£2).
With the majority of its customers already buying milk in reusable pint glass bottles, Fill was "the natural next step for us and our customers in living more sustainably", Milk & More deputy CEO Andrew Kendall told The Grocer.
Almost everything Milk & More sells is already in packaging that "fits the circular economy" — meaning it is reusable, recyclable or compostable.
The business plans to achieve this goal across 100% of its packaging before 2023.