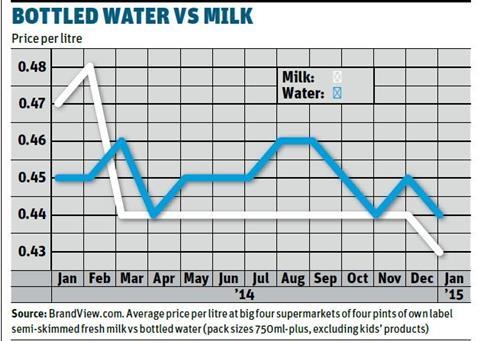 Supermarket price wars have pushed the price of four-pinter milk below that of some bottled waters.
Research by The Grocer shows how, based on price per litre across the big four, fresh own-label milk sold in four-pint bottles has become cheaper than the average price of larger packs and multipacks of bottled water.
Four-pinters have been a key weapon in the price war, and suppliers fear another raft of retailer cuts after Asda this week slashed the price of four pints of own-label milk from £1 to 89p.
At the start of last year, there was a gap of about 2p or 3p between a litre of water and a litre of milk sold in four-pinters, with the big four selling the bottles for £1.39 - with the exception of Asda, which was selling at £1. But milk fell below the cost of water in March after Tesco and Sainsbury's dropped four-pinters to £1. And despite fluctuation in the price of water since then, the average price of milk has remained either cheaper or equal to water all year - and has dipped further following Asda's cut this week.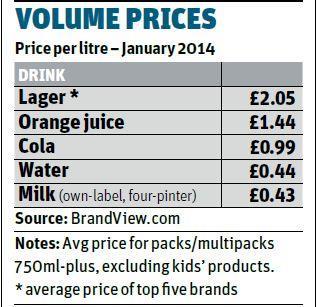 While pricing activity has been primarily focused on four-pinters - driving an 8.5% decline in volume price - the price of many other formats has also fallen. Excluding four-pinters, the average price of a litre of own-label fresh milk at the big four has dropped from 83p to 78p - a decline of 6%.
The Grocer's research also reveals how cheap milk is compared with other popular drinks.
On average, a litre of one of the top five lager brands is almost five times more expensive than four-pinter milk. Lager - also a key weapon in the price war - hasn't been immune to price erosion however, falling 2.2% from £2.10 a litre to £2.05 a litre between January 2013 and this month. World Cup activity had pushed the price to £2.01 in June, while it slumped to £1.95 in the run-up to Christmas.
And orange juice - which weighs in at more than three times the price of milk - has fallen 3.7% a litre year on year. It has rallied a little this month, rising from the £1.42 it traded at for the last few months of 2013 to £1.44 in time for the new year detox.
The price of cola has also risen this month after plunging to 85p a litre ahead of Christmas. At 99p a litre, it is nonetheless down 4.6% year on year but remains more than twice the price of a litre of the white stuff.