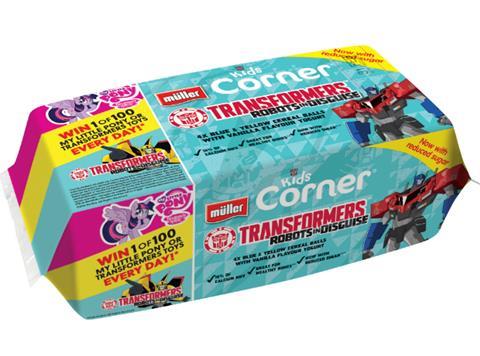 Müller has reacted to the mounting pressure on yoghurt manufacturers to cut sugar content by reformulating its Kids Corner range to include 50% less sugar.

As a result of the overhaul, which rolls out from 26 September, the range's total sugar content will be reduced to just 10% per 100g, Müller said, and tapped into an "increasing demand for consumers to lower their sugar consumption, particularly within the kids category".

The revamp follows a reformulation of the core Müller Corner range's recipe in March amid falling sales, with its Crunch Corner and Fruit Corner SKUs given a new recipe featuring a "thicker, creamier-tasting" yoghurt.

The dairy giant was "committed to supporting reducing added sugar across our whole portfolio", said marketing director Michael Inpong.

"We have committed significant investment and resources to drive health and wellbeing this year, next year and beyond, on our journey to reduce added sugar across all our brands," he added. However, Müller chose not to cut sugar content as part of the core Corner revamp earlier this year.

The brand has also secured a tie-in with toy manufacturer Hasbro as part of the revamp, consisting of an on-pack promotion that gives entrants the chance to win a Hasbro toy every day until 18 December. "We hope to bring real excitement to the kids' yoghurt category," Inpong said.