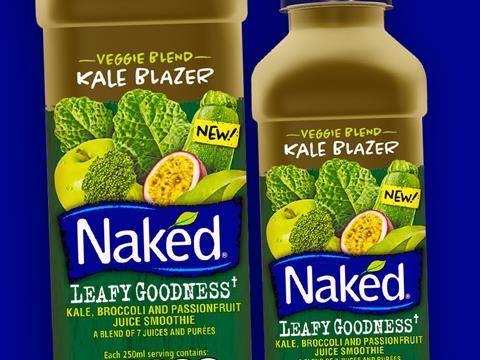 PepsiCo has added to its Naked smoothie portfolio with the launch of Kale Blazer.

Developed in response to the growing trend for vegetable-based drinks, Kale Blazer contains 30% vegetables, two-thirds of which are kale - a source of potassium, vitamin K and fibre, providing two of the 5 a day.

Kale Blazer will be available in a 450ml on-the-go bottle (rsp: £2.36) and 750ml format (rsp: £3.49). Launching in stores from 18 January, it will be joined on the shelves of all multiples by a new 750ml-sized variant of Naked's 'superfood' smoothie Red Machine (rsp: £3.49), which is made from a blend of strawberries, raspberries and cranberries.

"The new additions offer a different combination of vegetables and fruits, with the availability of take-home bottle sizes, and look set to build on the successful Naked range and meet the demand for smoothies that are full of fruit and vegetables with fantastic taste," said Jeremy Gibson, PepsiCo marketing director.

The Naked one on-the-go smoothie brand has enjoyed significant growth since its launch in 2007, and is currently growing ahead of the chilled fruit juice category at 22% [Nielsen Scantrack MAT w/e 26 December 2015].