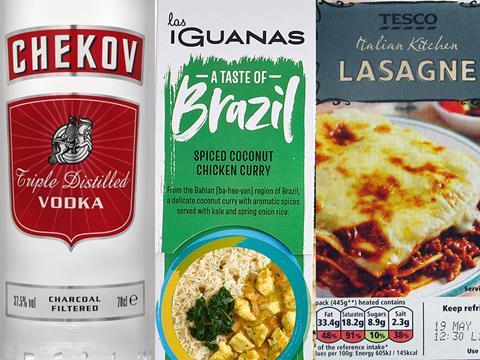 Retailers and food manufacturers have not grasped the urgency of strict new EU country of origin labelling regulations, which will cost the sector millions of pounds to implement, the BRC has warned.
Thousands of largely processed food and drink labels will need to be changed ahead of the implementation of EU regulation 1169/2011 on 1 April 2020, said BRC deputy director of food Andrea Martinez-Inchausti.

While mandatory origin labelling is already required on products such as fresh meat, fruit & veg, eggs and fish, no regulations have existed to date on processed products such as ready meals, canned food and alcohol products (other than wine).

The new EU rules, which will apply to the UK in all Brexit outcomes other than a no-deal, are intended to ensure that where a country of origin is given on a product "consumers are not misled into believing the primary ingredient came from the named country if that is not the case", the BRC said.

And with less than a year to make the relevant changes, the BRC has partnered with the FDF to produce a guidance paper for retailers and food and drink manufacturers to help them prepare.
Urgent changes required
"Urgent changes are required to more than 50% of all packaged food and drink labels sold in the supermarkets," said Martinez-Inchausti. However, many businesses were not aware of the impending rule change.

In practical terms, the new regulations would mean a Chinese ready meal, carrying Chinese iconography and imagery would have to be much more specific on the ingredients, Martinez-Inchausti added. Therefore, any primary ingredient which made up 50% of the product, or those present in smaller amounts but seen as a "characterising ingredient", would need to be displayed prominently on the front of the pack.

Under the regulations, food business operators may also use the following or similar alternative statement to inform consumers: '(name of the primary ingredient) do/does not originate from (the country of origin or the place of provenance of the food)'.

But regardless of what was displayed, Martinez-Inchausti said the changes would have a "big impact" on large parts of the food and drink sector.

The new rules were a "significant development in food labelling and a new compliance challenge facing food manufacturers", said FDF food law, labelling and enforcement manager Alex Turtle. It also aimed to provide clarity to consumers on the provenance of key ingredients, he added.

"With food businesses having only until 1 April 2020 to comply, this comprehensive guidance helps the wider food industry understand the intricacies of the new rules and how to apply them to their products, taking into account their ingredients's supply chains."