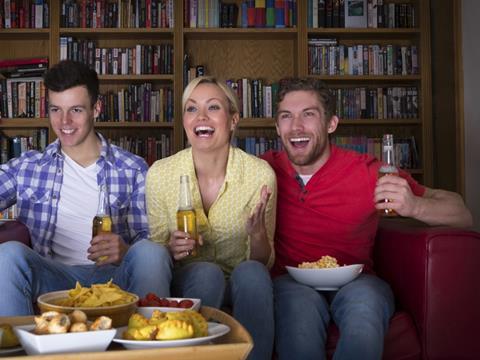 Brits are now buying more beer in supermarkets and off-licenses than in pubs.
Off-trade volume sales of beer have topped on-trade sales over a full calendar year for the first time on record, according to data released today (30 January) by the British Beer & Pub Association (BBPA).
In 2014, shoppers bought the equivalent of 13.78 million barrels of beer versus the 13.66 million barrels downed in pubs, clubs and restaurants. Off-trade sales had risen 3.5% year-on-year according the BBPA data, while on-trade sales had dropped 0.8%.
Supermarket beer volumes had benefitted from deep discounting around the World Cup and the Christmas period. In June, eight of Britain's 10 biggest beer and cider brands were cheaper in the run-up to the 2014 tournament than at the start of the 2010 cup.
In December, one senior buyer suggested the World Cup had "set the bar" for pricing for the rest of the year, adding retailers had run three-for-£20 or slabs of beer for £10 for a "significant" number of weeks. While such deals had driven volume sales, The Grocer Top Products Survey (23 December 2014) revealed this had been at the expense of a value.
The off-trade boom also means total UK beer volumes are up year-on-year across a full calendar year for the first time since 2004.
This "startling turn around" followed two cuts in beer duty, said the BBPA.
"British beer is back in growth – and we want to keep it that way," added BBPA chief executive Brigid Simmonds. "That is why another duty cut from the Chancellor is vital. It will build on the success of two very popular tax cuts in the past two years, and boost jobs in an industry that employs 900,000 people, almost half of whom are 16 to 24-year-olds."
Total beer sales (moving annual total 000's barrels)
Q1
Q2
Q3
Q4
Volume
% change
Volume
% change
Volume
% change
Volume
% change
2000
35,464
-0.6%
35,503
1.5%
35,052
-1.0%
34,572
-3.5%
2001
34,531
-2.6%
34,432
-3.0%
34,473
-1.7%
34,627
0.2%
2002
34,953
1.2%
35,287
2.5%
35,201
2.1%
35,141
1.5%
2003
35,052
0.0%
35,033
0.0%
35,483
0.0%
35,500
1.0%
2004
35,771
2.0%
35,969
2.7%
35,495
0.0%
35,641
0.4%
2005
35,413
-1.0%
35,015
-2.7%
35,215
-0.8%
34,902
-2.1%
2006
34,778
-1.8%
35,191
0.5%
34,596
-1.8%
34,448
-1.3%
2007
34,265
-1.5%
33,600
-4.5%
33,558
-3.0%
33,155
-3.8%
2008
33,144
-3.3%
32,790
-2.4%
32,213
-4.0%
31,482
-5.0%
2009
30,961
-6.6%
30,543
-6.9%
30,503
-5.3%
30,214
-4.0%
2010
29,927
-3.3%
30,225
-1.0%
29,514
-3.2%
29,150
-3.5%
2011
29,003
-3.1%
28,272
-6.5%
28,492
-3.5%
28,477
-2.3%
2012
28,430
-2.0%
28,031
-0.9%
27,618
-3.1%
27,131
-4.7%
2013
26,970
-5.1%
26,627
-5.0%
26,997
-2.3%
27,098
-0.1%
2014
26,994
0.1%
27,639
3.8%
27,368
1.4%
27,444
1.3%
Off-trade beer sales (moving annual total 000's barrels)
Q1
Q2
Q3
Q4
Volume
% change
Volume
% change
Volume
% change
Volume
% change
2000
11,183
5.3%
11,484
12.9%
11,381
6.9%
11,215
-0.9%
2001
11,397
1.9%
11,471
-0.1%
11,679
2.6%
11,864
5.8%
2002
12,143
6.5%
12,562
9.5%
12,649
8.3%
12,808
8.0%
2003
12,888
0.0%
13,020
0.0%
13,502
0.0%
13,610
6.3%
2004
13,949
8.2%
14,174
8.9%
13,874
2.8%
14,128
3.8%
2005
14,032
0.6%
13,951
-1.6%
14,279
2.9%
14,173
0.3%
2006
14,278
1.8%
14,725
5.6%
14,451
1.2%
14,506
2.4%
2007
14,496
1.5%
14,177
-3.7%
14,391
-0.4%
14,418
-0.6%
2008
14,755
1.8%
14,915
5.2%
14,707
2.2%
14,434
0.1%
2009
14,143
-4.2%
13,909
-6.7%
14,052
-4.5%
13,958
-3.3%
2010
13,976
-1.2%
14,512
4.3%
14,084
0.2%
14,015
0.4%
2011
13,928
-0.3%
13,293
-8.4%
13,598
-3.5%
13,552
-3.3%
2012
13,647
-2.0%
13,412
0.9%
13,172
-3.1%
12,870
-5.0%
2013
12,881
-5.6%
12,765
-4.8%
13,173
0.0%
13,323
3.5%
2014
13,301
3.3%
13,857
8.6%
13,645
3.6%
13,784
3.5%
On-trade beer sales (moving annual total 000's barrels)
Q1
Q2
Q3
Q4
Volume
% change
Volume
% change
Volume
% change
Volume
% change
2000
24,281
-3.1%
24,018
-3.2%
23,671
-4.4%
23,358
-4.7%
2001
23,134
-4.7%
22,961
-4.4%
22,794
-3.7%
22,763
-2.5%
2002
22,811
-1.4%
22,725
-1.0%
22,552
-1.1%
22,333
-1.9%
2003
22,165
0.0%
22,013
0.0%
21,981
0.0%
21,890
-2.0%
2004
21,821
-1.5%
21,796
-1.0%
21,621
-1.6%
21,513
-1.7%
2005
21,381
-2.0%
21,064
-3.4%
20,935
-3.2%
20,729
-3.6%
2006
20,499
-4.1%
20,466
-2.8%
20,145
-3.8%
19,942
-3.8%
2007
19,770
-3.6%
19,423
-5.1%
19,166
-4.9%
18,737
-6.0%
2008
18,389
-7.0%
17,876
-8.0%
17,506
-8.7%
17,048
-9.0%
2009
16,818
-8.5%
16,634
-6.9%
16,451
-6.0%
16,256
-4.6%
2010
15,951
-5.2%
15,714
-5.5%
15,430
-6.2%
15,135
-6.9%
2011
15,075
-5.5%
14,980
-4.7%
14,894
-3.5%
14,925
-1.4%
2012
14,782
-1.9%
14,619
-2.4%
14,446
-3.0%
14,261
-4.5%
2013
14,089
-4.7%
13,862
-5.2%
13,824
-4.3%
13,775
-3.4%
2014
13,693
-2.8%
13,781
-0.6%
13,723
-0.7%
13,660
-0.8%