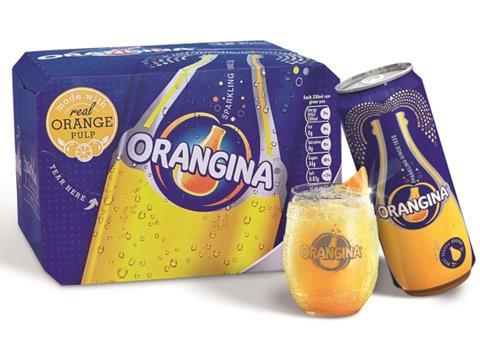 Lucozade Ribena Suntory is continuing its efforts to revive Orangina with the launch of four new multipacks.
Rolling out on Monday (7 September), the SKUs include six-packs of 330ml slimline cans (rsp: £3.99), which come in a conventional card box, and a four-pack of 420ml PET bottles (rsp: £3.99) in a card carry case. Both formats are available in Original and Light.
The launch is the latest in a series of steps aimed at reviving what has been a struggling brand, with sales last year falling 27.9% to £3.9m on volumes down 40.7% [IRI 52 w/e 31 January 2015], after a number of SKUs had been by the big four over the past two years.
In May, Suntory relaunched Orangina with the introduction of a 420ml PET bottle, designed to better differentiate the brand while also echoing the look of the drink's classic bulb-shaped glass bottle. Last month, the supplier kicked off £4m campaign 'Life Is Flat Unless You Shake It', which is running across cinema, VOD, outdoor, in-store and experiential activity.
Slimline cans have become a more prominent feature of the soft drinks category in recent years – with CCE and Britvic rolling them out for Coke and J2O respectively in 2013 – but these have tended to be 250ml cans.
"It's important we are providing consumers with the right packaging solutions that will allow them to enjoy Orangina as they please," said marketing manager Jamie Nascimento. "The design of the new drink-later options is a continuation from the single bottles launched earlier this year - it was important we were capturing the same premium and quirky cues of the Orangina brand.
Nascimento added that in research, 48% of consumers had said they considered the carry cases to be premium, while a third considered Orangina's packaging to be either very or extremely different from the competition [Incite February 2015].