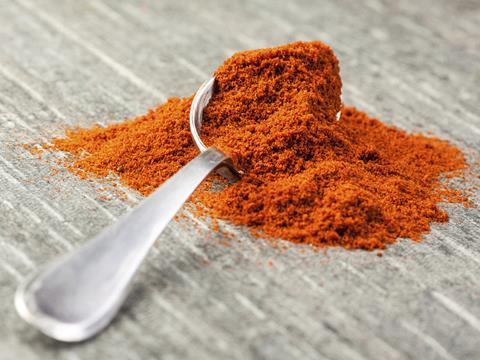 A batch of paprika – not cumin as originally suspected - was the most likely source of almond protein found in food products recalled by the Food Standards Agency in recent days.
An investigation was launched last week by the FSA after traces of almonds were found in a Morrison's fajita meal kit on 12 February, and an Aldi Fiesta brand fajita dinner kit on 14 February.
Santa Maria statement:
Santa Maria UK can confirm that it is recalling its Discovery Taco Seasoning (30g) on a precautionary basis as it may contain almond protein in the seasoning mix. This almond protein is not declared within the allergy advice on the label.
The batches affected are those with a best before date of 24.06.2017.
The health of our customers is our priority and we are advising those who have bought the product, and have an allergy to almonds or other nuts, not to eat it, but to return it to store for a full refund.
This decision has been made on the back of an extensive testing process into the possible presence of almond protein and no other Discovery products are known to be affected.
We remain committed to delivering the best quality products to our customers and we are working closely with the Food Standards Agency and our suppliers to investigate the root cause of the issue.
A further recall of a batch of Discovery Taco Seasoning yesterday (16 February) now indicated a spice mix supplied by Swedish-owned spice company Santa Maria UK was used in the three products, said the FSA. The company today issued a statement on the matter (see box-out).
The FSA added that a separate recall of batches of ground cumin sold by The Barts Ingredients Company on 31 January showed no evidence of a link to the Santa Maria UK products.
FSA chief operating officer Jason Feeney said further investigations into the supply chain of paprika and cumin were continuing. However, the levels of almonds found in the products were low, with no reports of any allergic reactions linked to the affected products received by the food watchdog.
"There is no evidence of food fraud at this stage but the Food Crime Unit will be involved if evidence of food crime emerges," he added.
The affected Discovery product is 30g Taco Seasoning with a best before date of 24 June 2017.