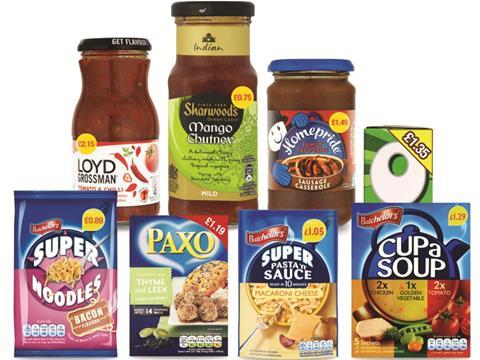 Premier Foods is doubling the number of price-marked packs it offers to include all lines in its core convenience range.
From September, the Bisto and Mr Kipling owner is adding 20 more products to the price-marked range targeted at symbol and independent retailers.
Premier said the launch was a response to increased demand for PMPs from consumers and grocers, citing 2013 HIM research that showed 84% of shoppers claimed to be "particularly aware of product prices when shopping in convenience stores", and that 13% planned to buy more PMPs in the coming months.
The supplier started offering a limited range PMPs two years ago, said trading director Ellie Krupa. They had been very successful in symbol retailers and wholesalers, she added, where they now accounted for 60% of sales.
"It is important we provide our retail partners with the product and pricing solutions that help them to appeal to those consumers seeking value-for-money offers," she said, adding Premier was also exploring the possibility of offering price promotions on PMPs, which is a growing trend in convenience.
She admitted not all symbol retailers embraced PMPs, but said research suggested retailers were not put off by the lower profit margins associated with PMPs. "Though our PMPs actually offer better margins compared with our standard rsps," she added.
News of the move comes weeks after Premier reported a 4.9% fall in sales of its 'power brands' in its half-year trading update.
The existing Premier Foods PMPs are being joined in September by:
Sharwoods Mango Chutney
Sharwoods Balti
Smash 176g
Cup 'a' Soup Minestrone
Cup 'a' Soup Variety
Super Pasta 'n' Sauce Macaroni
Super Pasta 'n' Sauce cheese and Broccoli
Super Pasta 'n' Sauce chicken and Mushroom
Super Pasta 'n' Sauce Cheese, Leek and Ham
Super Noodles Bacon
Loyd Grossman Tomato and Chilli
Loyd Grossman Tomato and Basil
Homepride Creamy Tomato and Herb
Homepride sausage Casserole
Homepride Curry
Homepride Creamy Tomato and Bacon
Homepride Bolognese
Homepride Chilli
Oxo Veg 12s
Paxo 190g