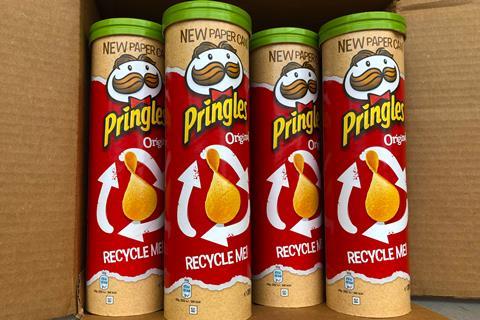 Pringles is trialling a new paper can, with owner Kellogg's hoping to give the brand a major eco-friendly makeover.
It has created two new crisp tubes from recycled paper with different lids – one paper and one plastic, both recyclable.
The current Pringles tube is made from a combination of foil, paper board, metal and plastic, which can be difficult to recycle through the household recycling system. The new pack will be able to go straight into household recycling bins.
The manufacturer has launched the trial in partnership with Tesco, rolling out the new tube to a small number of stores in East Anglia. If successful, Kellogg's said the tube could be rolled out across Europe.
It was the result of 12 months of development, it said, adding the tubes were specifically designed to protect the Pringles crisp shape as well as maintaining their long shelf life and ensuring the crisps remained crunchy.
It forms part of Kellogg's commitment to ensure 100% of its packaging is reusable, recyclable or compostable by the end of 2025.
Pringles VP Miranda Prins said the brand was "eager to play our part and reduce our impact on the planet".
She added it was "too early" to say whether this version of the tube would roll out on a permanent basis, but it would "help us understand if people like it and if it works on the supermarket shelf and at home".