Tesco Tandoori Roti Rolls: acid test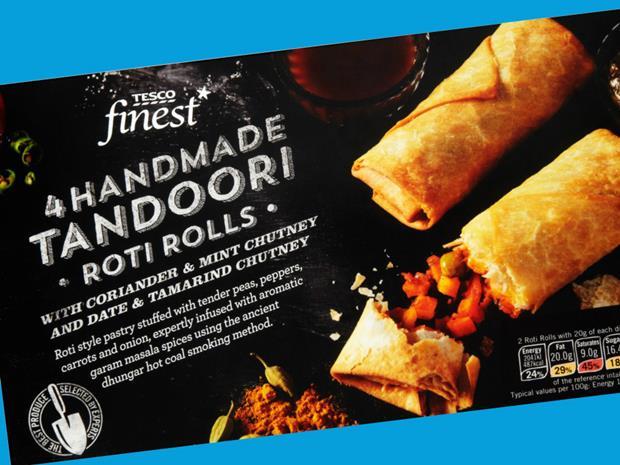 Who: Tesco
What: Tesco Finest Handmade Tandoori Roti Rolls
Where: frozen aisle
When: Launched September 2014
How much: £2.25/400g
Why: Inspired by Indian roti flatbread, and part of Tesco's top-tier Finest own-label range, these 'roti-style' pastry rolls contain vegetables with tandoori-style seasoning and come with coriander & mint and date & tamarind chutneys. Sold frozen, they can be oven-cooked in 22 to 24 minutes. 
Consumer verdict: These roti rolls attracted a high level of interest and engagement pre-trial that was maintained after testers tasted the product - particularly in the South where they scored an overall 47 out of 50, versus 33 in the Midlands. Positive comments included "tasty," "good level of spiciness" and "tastes home-made," while among the criticisms were that there weren't enough in the box and that they were "expensive." But these negative opinions had minimal impact on key measure ratings or the overall score that, at 41, was between the current average and maximum achieved in this category. Almost two-thirds of testers claimed they would definitely or probably buy these - a further indication of relevance and how impressed the group was with this product. 
Pre-trial purchase:  47%
Post-trial purchase:  62%
Better than what's out there: 58%
New and different:  85%
Overall score: 41/50

What is Fast Foodfax?
It is a subscriber service that has been running for more than 30 years, offering consumer assessments of new products and allowing comparisons with more than 17,000 products from our database. It is objective, impartial and totally independent, and each product is assessed using original consumer feedback from respondents across the UK.  See here for further information.
Fast Foodfax is prepared by  Cambridge Market Research , which works closely with The Grocer magazine on a variety of projects including the consumer judging element of the The Grocer's Own-label Food & Drink Awards and New Product Awards. 
Tel. 01223 492 050 Email:  Info@CambridgeMR.com