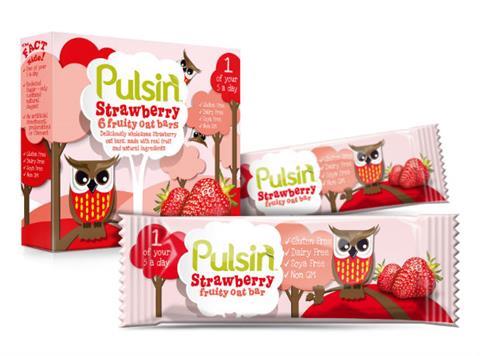 Protein powder and brownie maker Pulsin' is targeting the children's healthy snacking market with a range of oat bars.

Aimed at youngsters aged three to nine years old, the Kids Fruity Oat Bars come in packs of six (rsp: £2.99) and will be sold in independent health food stores across the UK from March, with further listings to follow.

Available in Strawberry, Blackcurrant & Apple and Orange Choc Chip variants, the gluten-free snacks are said to provide one of the 5 a day. They contain real fruit pieces and no artificial ingredients. The dairy-free and soya-free bars also claim to include only natural sugars.

"Pulsin's credentials in delivering natural and healthy convenience foods means we are in a prime position to offer parents healthier food choices for their kids," said Pulsin' co-founder Simon Ashburner.

"Made with the highest-quality natural ingredients, they do not compromise on taste or nutritional goodness. With food facts clearly labelled on pack, the bars will reassure parents they are making the right buying decision by offering their children snacks that are healthy and natural," he added.