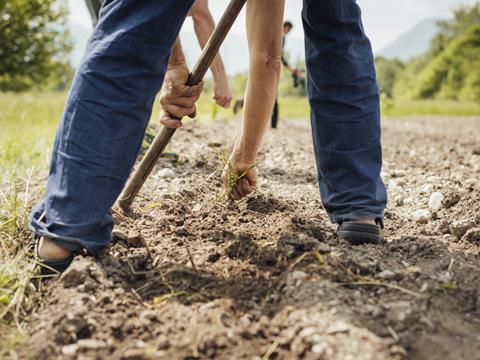 Supermarkets have been warned of a growing risk of modern slavery in supply chains as businesses desperately strive to tackle the ongoing labour crisis.
Labour shortages continue to take hold across the UK food supply chain with 78% not expecting to have a sufficient workforce this year, according to a recent survey by the Association of Labour Providers.
The desperate need for labour will open the door to exploitation, said Mark Heath, a former deputy director at the Gangmasters and Labour Abuse Authority (GLAA), as companies increasingly turn to subcontracting workers to fill the gaps – a move that can reduce oversight and proper checks.
Logistics, warehouses and meat processors are all susceptible, he said, though agriculture – where Defra reported a 10% worker shortfall in Q1 – remains most vulnerable.
"Employers may be faced with a very stark choice of picking the crops and using workers who are at risk of exploitation," said Heath. "And the chances are that some will choose to use workers and not ask too many questions."
While some farm workers have seen their wages soar to £20 per hour because of the labour shortage, others have become trapped.
A study this year by the Focus on Labour Exploitation (FLEX) charity found seasonal farm workers exploited by employers, pressured to sign zero-hour contracts, made to live and work in degrading conditions, and prevented from changing employers.
About six in 10 workers in the study reported incurring debts up to £870 for visas and other costs, according to FLEX, with many threatened with fewer work hours and deportation.
This week's deadline for EU settled status applications could exacerbate the situation further as EU citizens who have not applied for status will lose their right to work. It is expected to be one of the most debilitating factors on labour supply and a considerable driver of exploitation for many workers, according to a recent study by De Montfort university.
Labour exploitation is on the rise this year, according to anti-slavery charity Unseen. Its helpline has received more calls in 2021 than by the same point in 2019. UK director Justine Currell said while there was a drop-off during the pandemic, "we thought it would take a little while to start ramping up again. But that's not the case."
Shirley Goodrick of the Slave Free Alliance said supermarkets rapid recruitment of thousands of workers over the past year in response to the pandemic could already have created an added risk of labour exploitation.
An increased use of labour agencies, phone interviews replacing face-to-face, and the government's allowance of electronic documentation all increased the risk of exploitation, she said.