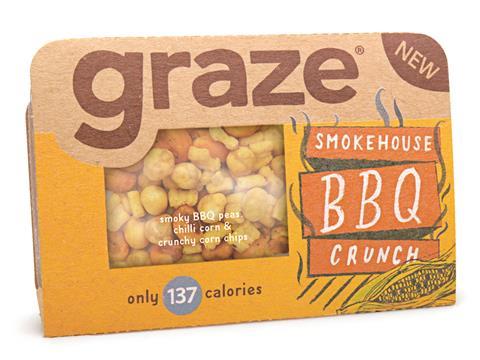 Online snack business Graze is expanding into retail with a roll-out into 850 Sainsbury's stores.
From next week, the business is launching Graze Good to Go, which comprises 12 products including flapjack, pretzel dippers and nuts. Products in the range will also be listed by Boots and WH Smiths Travel, with prices ranging from 99p to £1.49 dependent on retailer.
Graze said it had been approached directly by retailers looking to expand their healthy snacking options. Launched in 2009 in the UK, the business delivers cardboard boxes of healthy snacks such as nuts and berries direct to consumers. It has expanded into the US and launched a nationwide service there in 2013.
The business had developed more than 1,000 products and acquired "half a billion pieces of customer preference data" that it said had been crucial in selecting its retail range.
"Good to Go was inspired by some of our most popular snacks and includes some new recipes, to offer consumers a better choice," said Graze retail director Emma Heal. The online and retail products are fulfilled from the Graze kitchen in West London.
Graze retail range:
Lemon Drizzle Flapjack
Original Fruity Flapjack
Mini Strawberry & Banana
Juice Peach & Raspberry
Dark Chocolate Cherry Tart
Salted Fudge & Peanut Cookie
Chocolate Pretzel Dippers
Herby Bread Basket
Smokehouse BBQ Crunch
Thai Sweet Chilli Dippers
Punchy Protein Nuts
Veggie Protein Power
The range is tapping demand for higher-protein products, and includes Punchy Protein Nuts (with 7.6g of protein per serving) and Veggie Protein Power that combines black pepper cashews, edamame beans and chickpeas and contains 6.9g of protein per serving.
Next week's roll-out follows a 12-week trial of nine test SKUs in Boots this spring. Graze said its products delivered the highest rate of sale across the store's total snack business during the trial.
"Boots Advantage Card data told us almost 50% of purchases were made by consumers who hadn't bought into the Boots snacking category in the past five months," said Heal. "This indicates the new offering is set to drive significant category value."
Marketing activity will include PR and will also be conducted using through the Graze customer database and social media platforms.
"We are excited about graze becoming an omni-channel business and believe the online and FMCG channels will co-exist harmoniously by giving more choice to consumers with new ways to buy," added Heal.