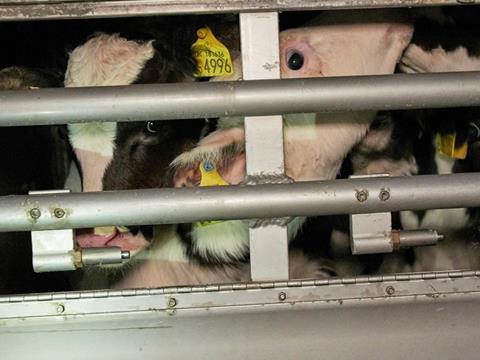 The RSPCA has renewed calls to ban live animal exports after the charity intercepted a lorry load of "exhausted" calves at Ramsgate, following a 70-hour journey.
Government officials, alongside the RSPCA and police, stopped a lorry transporting 247 calves from boarding a delayed ship to mainland Europe because the journey would have seen the legal travel time without a rest exceeded.
The RSPCA estimated the journey had already taken 70 hours, from Scotland to the port of Ramsgate. From there, they were destined for Spain.
Current legislation dictates calves must not be transported for more than nine hours without an hour's rest, and not more 21 hours before a 24-hour rest. But assistant director of public affairs at the RSPCA David Bowles said the UK government should take advantage of Brexit to take regulations a step further.
MEPs have long backed calls to improve welfare measures for animals transported across extended distances. In December, members of the EU Transport Committee voted in favour of a strengthened regulations including a four-hour limit on live transportation for slaughter and an eight-hour time limit on any live animal transport.
"The European parliament's environment, petitions, agriculture and transport committees repeated that member states do not properly comply with or enforce the necessary animal welfare protections and that it is difficult to meet the welfare needs of animals during long-distance transport," said Bowles.
"These calls for reduced journey times, better animal welfare provisions and much stricter enforcement by member states were also voted through by the Environment Committee. However, the EU Commission has always ignored these calls so we need the governments in the UK to take advantage of Brexit and bring an immediate end to these journeys and this suffering."
Currently, live sheep, calves, chickens and horses are all exported from the UK. However, exports from Ramsgate had only recently resumed following a five-year hiatus, said the RSPCA.
"This is a stark reminder that our current laws do not go far enough to protect those animals transported across long distances," said RSPCA ruminant welfare specialist John Avizienius.
"Until the long-distance live transport of animals is banned completely, we can never be sure that animals will not continue to suffer on these long, arduous journeys across the continent."